Even more Fed tightening in coming months
May 09, 2022
The Fed tightened monetary policy again last week and made it clear that there was more to come. The labor market remained hot with nonfarm payrolls continuing to climb solidly for April. But there are a few signs of ebbing activity in the economy. The ISM manufacturing and services surveys slowed while the household survey measure of employment declined for the first time since 2020.
What we learned last week: (pg. 1)
Household employment fell for April
Trade and transport sectors continue to hire
What we're watching this week: (pg. 2)
Tight labor markets and high costs expected to reduce small business optimism
Overall consumer prices lower, but the core higher
Rapid gains in input prices likely continued for April
Hear More
Employment continues to improve – What does this mean for the Fed?
Nationwide's economists David Berson and Ben Ayers analyze April's employment report and the FOMC announcement to raise rates again. (17 min)
How long can employment continue to improve?
What does this say about the overall economy?
And what does this mean for the Fed?
Listen now here.
View our informative commentary on the economy and financial markets – and find out what we're watching for the week ahead: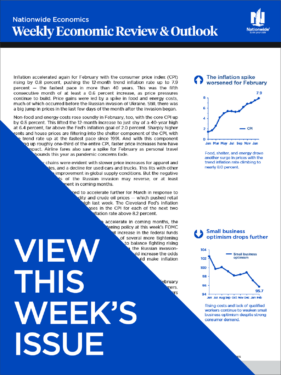 NFM-9898AO.7