High inflation weighing on consumer activity
October 03, 2022
Last week's economic data confirmed that inflation pressures are still strong and continue to erode consumer purchasing power. The latest housing data featured an explosion in new home sales (coinciding with a fall in mortgage rates), while initial jobless claims fell below 200,000 to suggest that the labor market remains extremely tight.
Key Takeaways:
What we learned last week: (pg. 1)
Core PCE inflation climbed to 4.9 percent in August, only half a percentage point lower than the 40-year high seen in February.
New home sales surged to the fastest pace since March, and the nearly 30 percent month-over-month growth was the third-largest on record.
What we're watching this week: (pg. 2)
As the recent rise in new orders continues, a healthy increase in manufacturing activity is expected in September. Firms have stepped up production as costs have dropped while demand remains solid. Further, the rapid deceleration in input prices and faster supplier deliveries suggest that supply chains are healing. Still, weak export demand should persist as European economies struggle to expand.
The service sector should show continued expansion in September, although the ISM survey should decrease from August. New orders are likely to drop as households increasingly look to cut back on discretionary spending with costs rising rapidly for essential items. Still, supply conditions should show further improvement, lowering costs for producers while enabling solid business activity.
September job gains are expected to remain upbeat at 265,000 — albeit slowing from the recent robust pace of hiring. Service sector growth should again lead the way as firms continue to right-size from pandemic staffing losses in many industries. The unemployment rate should be unchanged at 3.7 percent while an increase in the labor force participation rate is expected — a positive sign as more individuals re-engage with the job market.
View our informative commentary on the economy and financial markets – and find out what we're watching for the week ahead: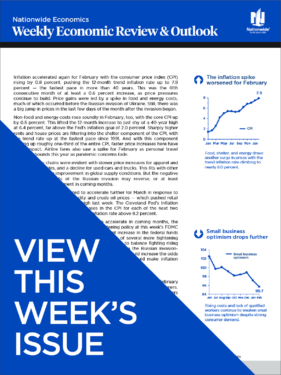 NFM-9898AO.7