Housing has weakened, but the Fed is unlikely to alter its rate tightening path
September 13, 2022
Highlights from the Monthly Review for August 2022:
The economy continues to show signs of slowing with the housing market, which is on the front lines as the Fed raises interest rates, leading the downtrend. Demand remains strong in many industries, however, with payroll gains still far above the long-run average and inflation not in the same ballpark as the Fed's 2.0 percent goal — likely prompting another outsized rate hike by the Fed this month.
Key Takeaways:
Economic Review
Housing market has weakened, but the Fed is unlikely to alter its rate tightening path (pg 4)
Financial Markets
The market rally falters (pg 5)
The Outlook
History says to expect the unexpected (pg 6)
Rates continue to climb as the economy shows some slowing: View the full report to learn more.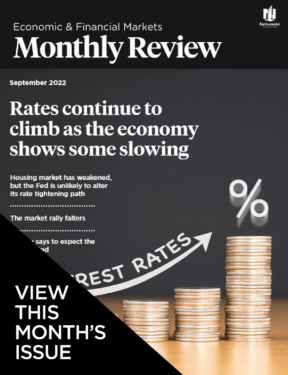 NFM-11356AO.3