Monthly Review: Rising inflation, stagflation, soft landing, or recession ahead?
June 14, 2022
Highlights from the Monthly Review for June 2022:
Economic data are softer, but still suggest further solid economic growth. Job gains slowed for May, but were still solid and above expectations, while business surveys suggested decent demand and slightly improving supply indicators, and the consumer has continued to spend despite worsening sentiment. The recent economic indicators imply that while growth is slowing, it is continuing at a solid pace.
Economic Review
Economic data are softer, but still suggest further solid economic growth (pg 4)
Financial Markets
Some stability for stocks and bonds, but not for commodities (pg 5)
The Outlook
The pace of the housing pullback is likely to moderate (pg 6)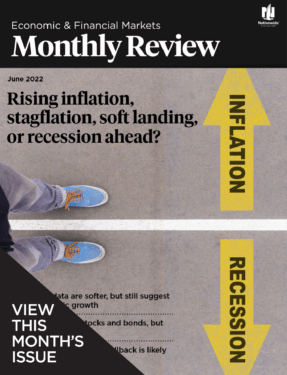 NFM-11356AO.3