Monthly Review: Rising inflation, stagflation, soft landing, or recession ahead?
June 14, 2022
Highlights from the Monthly Review for June 2022:
Economic data are softer, but still suggest further solid economic growth. Job gains slowed for May, but were still solid and above expectations, while business surveys suggested decent demand and slightly improving supply indicators, and the consumer has continued to spend despite worsening sentiment. The recent economic indicators imply that while growth is slowing, it is continuing at a solid pace.
Economic Review
Economic data are softer, but still suggest further solid economic growth (pg 4)
Financial Markets
Some stability for stocks and bonds, but not for commodities (pg 5)
The Outlook
The pace of the housing pullback is likely to moderate (pg 6)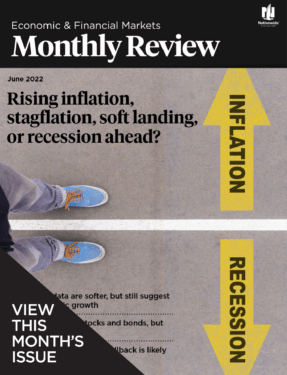 Sources/Disclosure
The information in this report is provided by Nationwide Economics and is general in nature and not intended as investment or economic advice, or a recommendation to buy or sell any security or adopt any investment strategy. Additionally, it does not take into account any specific investment objectives, tax and financial condition or particular needs of any specific person.

The economic and market forecasts reflect our opinion as of the date of this report and are subject to change without notice. These forecasts show a broad range of possible outcomes. Because they are subject to high levels of uncertainty, they will not reflect actual performance. We obtained certain information from sources deemed reliable, but we do not guarantee its accuracy, completeness or fairness.

Nationwide, the Nationwide N and Eagle and Nationwide is on your side are service marks of Nationwide Mutual Insurance Company. © 2023 Nationwide.
NFM-11356AO.3