Near-term recession concerns are overdone
May 23, 2022
The financial markets have been showing significant concern about a growth slowdown, and possible recession, with equities selling off and prices of Treasury notes climbing (pushing rates down) last week. The underlying data, however, tell a somewhat different story. Retail sales continued to grow solidly, housing data weakened but remain strong overall, and regional Fed manufacturing surveys slid but don't suggest a broad slowdown.
What we learned last week: (pg. 1)
Existing home sales continue to slip
Philly Fed new orders index still shows solid growth
What we're watching this week: (pg. 2)
Another decline expected for new home sale
Durable goods orders likely to continue upward trend
Consumer spending expected to be robust as consumer activity remains solid
Podcast: How is inflation impacting the consumer? (18 min)
Nationwide's Chief Economist David Berson and Deputy Chief Economist Bryan Jordan take a closer look at the recent Retail Sales and Industrial Production reports.
How has inflation impacted overall sentiment?
Does the consumer still have the wherewithal to spend?
And what's the outlook for the months ahead?
Listen here.
View our informative commentary on the economy and financial markets – and find out what we're watching for the week ahead: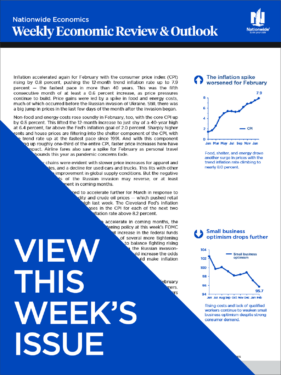 NFM-9898AO.7