Overall CPI down, but core inflation is up
May 16, 2022
Growth in the overall consumer price index (CPI) slowed for April, mostly because of a (temporary?) decline in gasoline prices. But the core CPI, removing the volatile food and energy components and often viewed as a better measure of underlying inflation than the total, grew more rapidly for April. Meanwhile, April small businesses optimism remained subdued while consumer sentiment fell to the lowest level since 2011 for early May.
What we learned last week: (pg. 1)
Consumer prices remain impacted by supply chain problems
The expectations component of consumer sentiment continues to decline
What we're watching this week: (pg. 2)
More strong growth expected for retail sales
Housing starts expected to edge lower
Existing home sales likely to fall amid decreasing affordability
Podcast: Inflation continues. Is relief on the way? (14 min)
Nationwide's Deputy Chief Economist Bryan Jordan and Senior Economist Ben Ayers take a closer look at the CPI report.
What sectors are being impacted the most?
Where do we see some relief?
How is this cycle different than previous inflations?
What's the outlook for the months ahead?
Listen here.
View our informative commentary on the economy and financial markets – and find out what we're watching for the week ahead: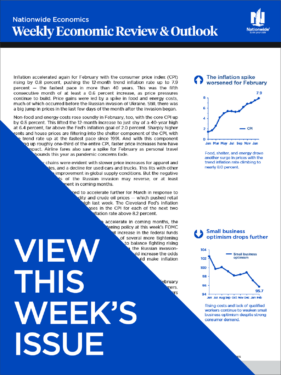 NFM-9898AO.7