Resiliency of spending, hiring keeping a recession at bay
June 13, 2023
Highlights from the Monthly Review for June 2023:
Spreading contractionary readings across sectors in response to the Fed's tightening cycle suggest that the U.S. economy is moving towards a downturn. Key leading indicators also point to high recession risks over the next year. But this pre-recessionary period has been extended by continued strong job gains and spending on services.
Key Takeaways:
Economic Review: Labor demand has diminished very little
May's job growth was nearly equal to the average growth from the last 12 months, suggesting that there has been little cooling of labor demand. Additionally, wage gains were solid again, which should add to what was already a strong start to the second quarter for consumer activity. But the overheated labor market also increases concerns of persistent high services inflation. (pg. 2)
Financial Markets: Summer heats up for markets
Investors celebrated that the debt ceiling crisis was averted. The equity market looked ahead optimistically to potential double-digit earnings growth for 2024 and was buoyed by a surge in tech leaders, and the bond market focused on the Fed while a robust Treasury issuance awaits. The path forward for the equity market remains unclear with corporate earnings still under pressure from rising costs and a tight lending environment. (pg. 3)
The Outlook: Tighter bank lending a key risk
The initial banking crisis that started in March has calmed as bank deposits have normalized and banks have broadly shored up their balance sheets. But the downside risk for the economy from a sharp tightening of bank lending may not have unfolded yet. Business loan standards tightened further in the second quarter, but not as much as worried given the disruptions for many regional banks since March. Still, the Fed's latest Beige Book findings noted much tighter credit conditions across most districts with increased concerns about liquidity for businesses. Mortgage credit availability in April was the tightest reported since the Great Recession as banks cut risk from their portfolios.
If the market for lending dries up in coming months, the negative impacts for consumer activity and business investment could be substantial — either clinching a recession or making a downturn even deeper/longer.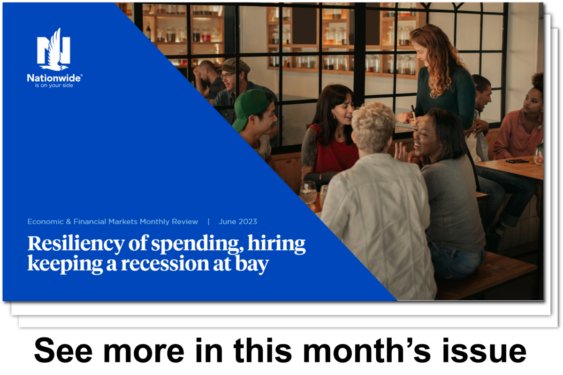 Sources/Disclosure
The information in this report is provided by Nationwide Economics and is general in nature and not intended as investment or economic advice, or a recommendation to buy or sell any security or adopt any investment strategy. Additionally, it does not take into account the specific investment objectives, tax and financial condition or particular needs of any specific person.

The economic and market forecasts reflect our opinion as of the date of this report and are subject to change without notice. These forecasts show a broad range of possible outcomes. Because they are subject to high levels of uncertainty, they may not reflect actual performance. We obtained certain information from sources deemed reliable, but we do not guarantee its accuracy, completeness or fairness. Nationwide, the Nationwide N and Eagle and Nationwide is on your side are service marks of Nationwide Mutual Insurance Company. ©2023 Nationwide
NFW-11325AO