Economic confidence riding high as the election year begins
February 04, 2020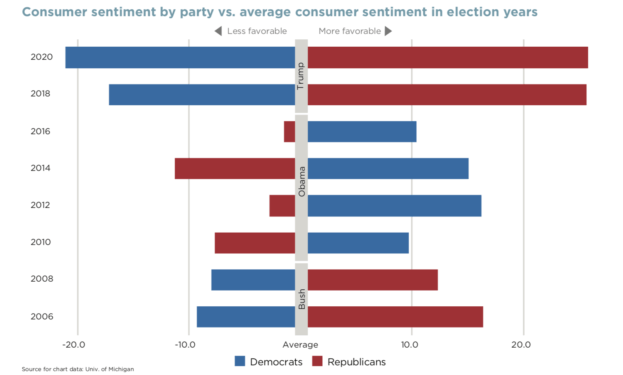 Recent data from the Pew Research Center shows the view of the U.S. economy among likely voters is as positive as its been in the 18-year history of the survey—26% view the economy as "excellent", a record high. Combining this number with the 47% of likely voters who viewed the economy as merely "good" results in a 73% overall positive outlook, versus 25% of likely voters with a negative outlook. This is a potentially good omen for continued consumer spending and a solid fundamental backdrop for equity markets.
Economic sentiment is a closely-watched indicator in a presidential election year. Over the last 120 years, the four presidents who saw recessions appear in the last two years of their terms (Taft, Hoover, Carter and Bush) each failed to win their re-election bids. Of the presidents who sought re-election without a recession (10 in all), each returned to the White House for a second term.
What is notable about the current political environment is the deep partisan divide and the rising sentiment gap between Republicans and Democrats. Since the election of President Trump, consumer sentiment among those identifying as Republican has hovered around 24% above average. On the flip side, consumer sentiment among identifying Democrats has been 19% below average. While there's a strong historical correlation between economic growth and presidential re-election bids, the heightened degree of partisanship in 2020 could insert some uncertainty into the upcoming election season.
Review relevant client material from Nationwide
MFM-3524AO