Negative yields: Investing in a brave new world
SEP. 04, 2019
Investors in global debt are paying borrowers for the privilege of lending them money.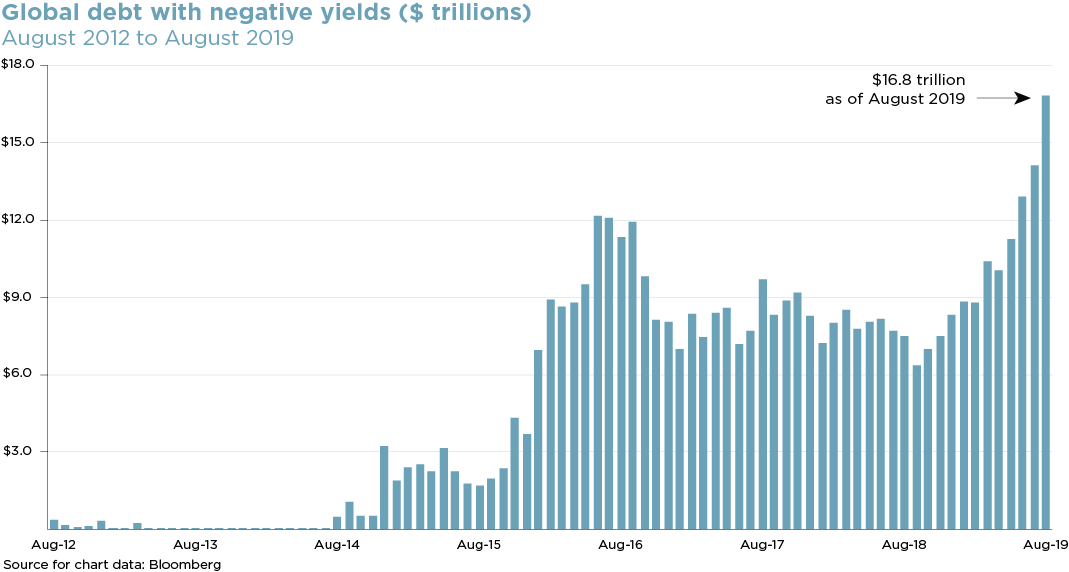 Last month, Germany issued €824 million of 30-year bonds with a negative yield–a first for Europe's largest economy. The German government will pay no coupon to buyers of these long bonds. Instead, investors will receive just €795 million if they hold these bonds until they mature in 2050. With German inflation currently approaching 2%, investors are taking a notable hit on a purchasing power basis as the bonds offer negative real rates of -2%.
We live in an unprecedented time when bond investors are willing to lend money with the expectation of getting back less than their original investment. As recently as 2013, there were virtually zero bonds offering negative yields. Today, negative-yielding global debt totals around $17 trillion, or nearly one-third of the global bond market. Excluding U.S. bonds, the percent of negative-yielding global debt rises to nearly 50%.
Negative global debt creates some interesting secondary effects. For one, interest rates for home mortgages can turn negative, as they have done already for mortgages issued by a few banks in Denmark and Finland. With negative home mortgage rates, borrowers would essentially pay back less than the principal they borrowed from the bank.
Second, as the U.S. currently accounts for nearly 95% of all available positive investment-grade yield, we are seeing a flood of foreign purchases of our bonds. That puts positive pressure on the dollar. Also, negative-yielding corporate debt is greater than $1 trillion, creating a confusing set of incentives for executives. The poor yield environment hasn't stemmed bond fund inflows. During the week of Aug 19-23, bond funds saw $15 billion of net assets coming in, bringing the year-to-date total to $313 billion.
Review relevant client material from Nationwide
Disclaimers
This material is not a recommendation to buy, sell, hold or roll over any asset, adopt an investment strategy, retain a specific investment manager or use a particular account type. It does not take into account the specific investment objectives, tax and financial condition or particular needs of any specific person. Investors should discuss their specific situation with their financial professional.

Except where otherwise indicated, the views and opinions expressed are those of Nationwide as of the date noted, are subject to change at any time and may not come to pass.

Nationwide Funds are distributed by Nationwide Fund Distributors LLC (NFD), member FINRA, Columbus, Ohio.

Nationwide Investment Services Corporation (NISC), member FINRA, Columbus, Ohio.

Nationwide, the Nationwide N and Eagle and Nationwide is on your side are service marks of Nationwide Mutual Insurance Company. © 2019 Nationwide

MFN-0290AO (09/19)
MFN-0290AO