Not all inflation is alike
September 23, 2021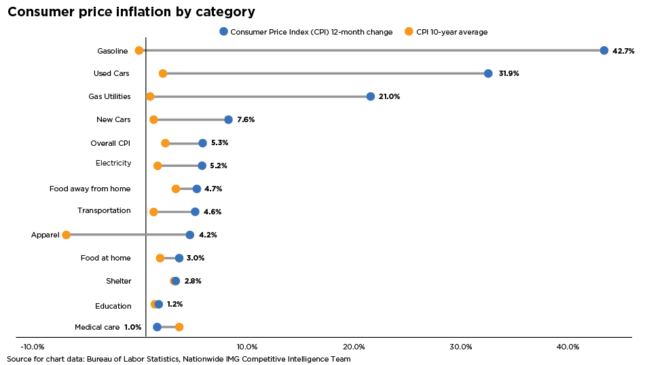 Investors have been obsessed with inflation in recent months, as supply chain disruptions and surging demand drove the Consumer Price Index (CPI) to levels not seen since the financial crisis. In August, headline CPI versus one year ago remained elevated at 5.2%, marking the third-straight month above 5%. Excluding food and energy, core CPI was at 4.0% on a year-over-year basis, down modestly from 4.5% in June but still at levels not seen since 1991.
Inflation could derail the bull run for stocks by crowding out consumer spending and limiting the flexibility of the Federal Reserve to stimulate the economy. Fed Chair Jerome Powell has been remarkably successful in convincing both the stock and bond markets that the surge in inflation is transitory, though few know what "transitory" means. The definition seems to adjust on the fly.
While inflation in August was elevated, investors were still encouraged by the monthly report, believing that the trend toward normalization is in place. A deeper look at the data reinforces this belief. Prices in markets that were impacted heavily by COVID-19 remain elevated, including industries hit by supply chain disruptions and commodity cost pressures (e.g., gasoline and natural gas, new and used cars, apparel). Pressures in these areas may remain for the next several months, but are unlikely to persist indefinitely.
Inflation occurring in more "sticky" categories seem to be following historic precedent, notably in medical care, education, and shelter. The current consensus estimate for calendar-year CPI is 4.1% in 2021, falling to 2.7% in 2022 and 2.4% in 2023. All three forecasts are above the Fed's 2.0% target, but certainly manageable. As inflation expectations have moderated, so to have expectations for Fed rate hikes. The Fed Futures curve currently embeds a near-50% chance of no hike through 2022, up from 30% one year ago.
Review relevant client material from Nationwide
Disclaimers
This information is general in nature and is not intended to be tax, legal, accounting or other professional advice.

The information provided is based on current laws, which are subject to change at any time, and has not been endorsed by any government agency.

Neither Nationwide nor its representatives give legal or tax advice. Please have your clients consult with their attorney or tax advisor for answers to their specific tax questions.

© 2021 Nationwide

NFN-1217AO (9/2021)