Reading recession risks in the yield curve
AUG. 21, 2019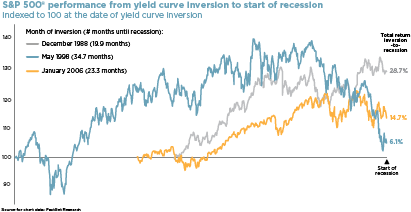 Attention turned to the yield curve last week as the financial media deluged investors with news about its inversion and the signal it sends about a possible recession. For all the headlines about falling long-term rates and rising recession risks, many of these stories overlooked some important details.
It is true that the last five recessions (going back to 1980) have been preceded by inverted yield curves, specifically between interest rates for 2-year and 10-year Treasury notes. While 10-year rates have been under very short-term rates (less than 1-year) for some time now, the area between 10- and 2-year Treasuries is the part of the curve that market analysts look to as the more accurate indicator of an upcoming recession.
On Wednesday, August 14, the 10-year Treasury yield did fall below the 2-year yield for a brief spell during the day—and then only by a few basis points. By the end of the week, the curve "uninverted" with 10-year rates back above 2-year rates, if only by around six basis points. Historically, an inversion of the yield curve must be deeper and last longer (at least three months) before it becomes a reliable indicator of a recession. That doesn't mean the recent shifts in interest rates aren't worrisome. If rates on the long end of the curve continue to slide, the risks of a U.S. economic downturn in the next 12-24 months would rise considerably.
Even if next time the yield curve inverts for longer, it doesn't mean the U.S. would be suddenly thrust into recession. Of the last five inverted yield curves going back to 1980, the ensuing recessions started 21 months later on average. The lag times between inversions and recessions ranged from 11 months (1980) to nearly three years (1998). Moreover, these previous post-inversion periods have been good for equity returns on a relative basis; the S&P 500® index gained 23% on average from the inversion of the yield curve to the peak of the equity bull market.

Historically, the yield curve inverts as investors reduce their exposure to riskier assets (stocks and long-dated, higher-yielding debt) in favor of the relative safety and security of short-term bonds. This de-risking comes as investors grow more concerned about the health of the economy, slowing growth and higher inflation. This time around, while there are some legitimate economic concerns, the U.S. sits in a reasonably strong position with tight labor markets, gradually improving wage growth, robust consumer spending and low inflation.
What's driving the downward pressure on long-term U.S. rates? Some of it comes from institutional and retail investor demand for higher-yielding fixed investments; so far this year, around $200 billion has flowed into bond funds and ETFs. Another driver comes from overseas—yields on nearly $17 trillion of sovereign debt outside of the U.S. are currently below zero. Long-term interest rates in many developed international markets turned negative over worries about slowdowns in their home economies and the broader global market. Simmering trade conflicts between the U.S. and its major trading partners (particularly China) also stoked fears about decelerating global growth. A positive turn in trade discussions or global growth prospects would ease some of the pressure on U.S. long-term rates and help the yield curve revert to a more normal, up-sloping shape.
During these periods of heightened uncertainty, it's important for investors to remain calm in light of current event developments and focus on the fundamental drivers of economic performance. Much of the recent stock market volatility has been emotional reactions to external events and headlines, from protests in Hong Kong, to trade pivots from President Trump, to "clickbait" news items on the inverted yield curve. The potential for recession may grow as we progress through the late-cycle expansion, but pay attention to the data that matters when considering your investment decisions.
Review relevant client material from Nationwide
Disclaimers
This material is not a recommendation to buy, sell, hold or roll over any asset, adopt an investment strategy, retain a specific investment manager or use a particular account type. It does not take into account the specific investment objectives, tax and financial condition or particular needs of any specific person. Investors should discuss their specific situation with their financial professional.

Except where otherwise indicated, the views and opinions expressed are those of Nationwide as of the date noted, are subject to change at any time and may not come to pass.

Market index performance is provided by a third-party source Nationwide Funds Group deems to be reliable. Indexes are unmanaged and have been provided for comparison purposes only. No fees or expenses have been reflected. Individuals cannot invest directly in an index.

S&P 500® Index: An unmanaged, market capitalization-weighted index of 500 stocks of leading large-cap U.S. companies in leading industries; gives a broad look at the U.S. equities market and those companies' stock price performance.

Nationwide Funds are distributed by Nationwide Fund Distributors LLC (NFD), member FINRA, Columbus, Ohio.

Nationwide Investment Services Corporation (NISC), member FINRA, Columbus, Ohio.

Nationwide, the Nationwide N and Eagle and Nationwide is on your side are service marks of Nationwide Mutual Insurance Company. © 2019 Nationwide

MFN-0285AO (08/19)
MFN-0285AO