Reading signals in the dollar and gold markets
JUL. 28, 2020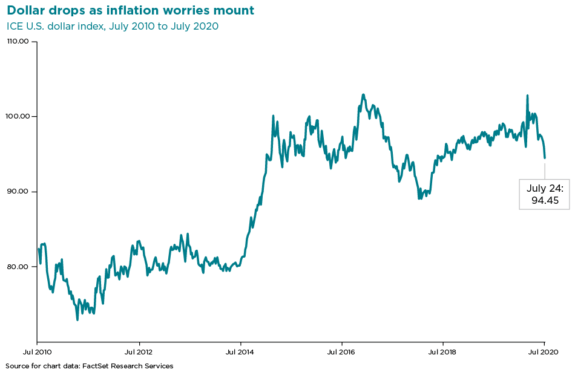 Investors have fixated on the equity and fixed income markets this year, as stock valuations approached record highs and bond yields hovered near record lows. But more recently, their focus has turned to the foreign exchange and precious metals markets, trying to interpret the signals that the U.S. dollar and gold prices are sending.
As recently as March, the U.S. dollar index spiked to its highest level in 17 years as investors rushed to safety at the outset of the coronavirus pandemic. Since then, the dollar has lost nearly 8% of its value. (See chart above.) Throughout much of Asia and Europe, coronavirus cases peaked earlier, so these economies are further along in their recovery efforts. In addition, the Federal Reserve's balance sheet and the federal budget deficit have exploded, perhaps giving global investors pause when considering how to allocate to dollar assets. A strong dollar dampens inflation and keeps interest rates low, so a weaker greenback would have the opposite effect, putting upward pressure on import prices and yields.
In precious metals markets, gold prices hit an all-time high on Monday, July 27, topping $1,944 per ounce. (See chart below.) Gold is generally viewed as an inflation hedge and the recent record high suggests investors are more worried about possible inflation brought on by the enormous expansion by the Fed and government spending. The implied inflation rate embedded in 5-year TIPS has risen from 0.1% in March to 1.4% today. This remains extremely low by historic standards, but the rapid shift is notable.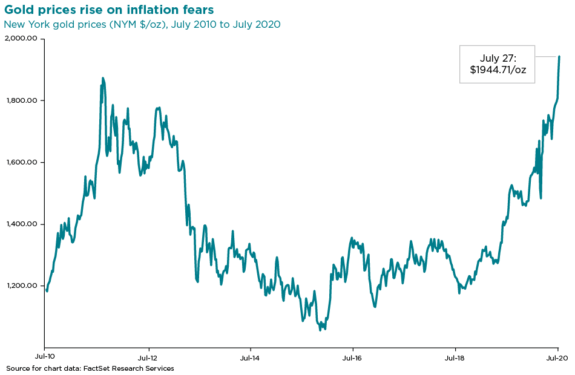 The equity market embeds substantial optimism on the direction of the economic recovery, while the bond market implies cautious optimism on a sustainable recovery. Investors should watch the commodity and foreign exchange markets, however, as they tell a different story on confidence in the domestic economy and the government's actions. This disconnect is unusual and may pave the way for a pullback in either equity prices, bonds or gold prices.
Review relevant client material from Nationwide
Disclaimers
This material is not a recommendation to buy, sell, hold or roll over any asset, adopt an investment strategy, retain a specific investment manager or use a particular account type. It does not take into account the specific investment objectives, tax and financial condition or particular needs of any specific person. Investors should discuss their specific situation with their financial professional.

Except where otherwise indicated, the views and opinions expressed are those of Nationwide as of the date noted, are subject to change at any time and may not come to pass.

Past performance does not guarantee future results. Current performance may be lower or higher than the past performance shown.

Nationwide Funds are distributed by Nationwide Fund Distributors LLC (NFD), member FINRA, Columbus, Ohio.

Nationwide Investment Services Corporation (NISC), member FINRA, Columbus, Ohio.

Nationwide, the Nationwide N and Eagle and Nationwide is on your side are service marks of Nationwide Mutual Insurance Company.

© 2020 Nationwide
NFN-1059AO