Stock market 2020 forecasts: Favorable trends continue
DEC. 19, 2019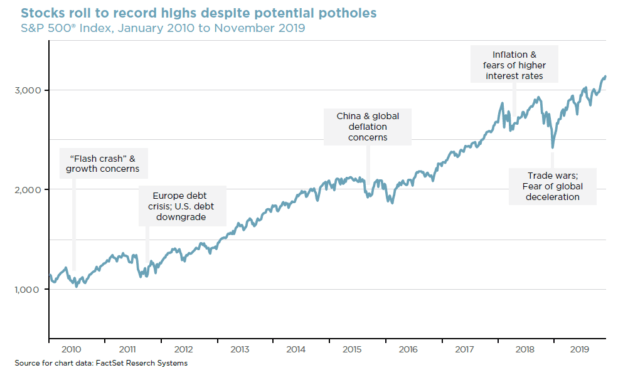 The financial markets finished 2019 riding a wave of positive momentum, with the benchmark S&P 500 stock index surfing through record territory during much of Q4. With a new calendar year on the horizon, these favorable stock market trends appear to continue: the U.S. economy remains strong, especially for wage earners in a tight labor market; the global economy shows early signs of stabilization and "green shoots" of growth; company earnings continue to grow at a healthy clip, although slower than previous quarters; the Federal Reserve is back in accommodative mode, cutting rates three times in 2019; finally, genuine progress has been reported on an initial U.S.-China trade deal.
U.S. investor behavior
Yet, despite these positives, U.S. investors were by and large in a skeptical, bearish mood throughout most of 2019. As one example, net inflows for U.S. equity funds were negative for the year through November, while U.S. bond funds received positive net inflows from investors. That shouldn't happen in the home stretch of a prolonged bull market run, although there are indications this negative sentiment is on the upswing.
On the professional side, the number of money managers who are bullish heading into 2020 declined to 27% in an October Barron's survey. That number was notably higher earlier in 2019, and was over 50% one year ago. Perhaps more significantly, this low ebb of bullish sentiment is at the lowest level in over 20 years. The one silver lining may be that negative sentiment is often a contrary indicator; when managers sit on the sidelines, it usually means they have money waiting to be put to work in the market.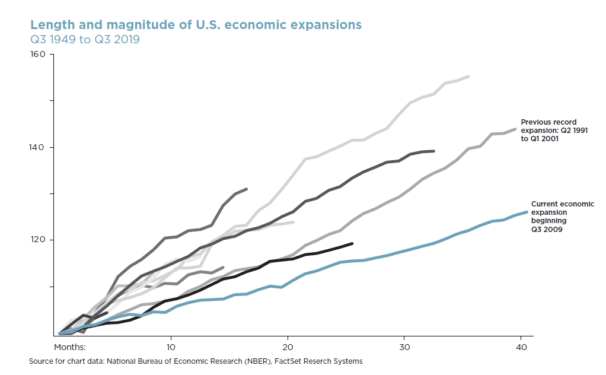 U.S. economic behavior
The economic cycle inched through the current late-maturation phase throughout 2019, but we continue to see the likelihood of next recession coming many months off from now. That means there's still room for the economic expansion to continue. As the cycle matures, a finer line emerges between "winners" and "losers" in the investment markets. Companies that have multiple levers to pull to sustain growth and deliver earnings are likely in a good position to do well as the last cycle continues.
There's also the possibility for investors to shake off the bad vibes and participate in the stock market rally, especially if recession fears start to wane and the stock market performs well. However, external factors may weigh on sentiment, including one big potential distraction from the political world.
Impact of politics on investments
The campaign leading up to November's presidential election may distract many investors from focusing on their goals throughout 2020. Lofty promises and scare-mongering from the leading candidates may stoke investor emotions and lead to some dodgy decisions that aren't aligned with their long-term goals. Our highly polarized political climate won't help much either—politically-minded people tend to color their outlooks (financial and otherwise) based on whether their preferred party is in or out of power.
On top of that, the media is prone to oversell the impact of politics on investment returns as they chase page views and click-throughs on their web sites. All of this political noise is likely to increase as Election Day 2020 nears. Wise investors will look to tune out the distractions and keep their emotions in check as the contentious political drama plays out over the next 11 months.
Review relevant client material from Nationwide
Disclaimers
This material is not a recommendation to buy, sell, hold or roll over any asset, adopt an investment strategy, retain a specific investment manager or use a particular account type. It does not take into account the specific investment objectives, tax and financial condition or particular needs of any specific person. Investors should discuss their specific situation with their financial professional.

Except where otherwise indicated, the views and opinions expressed are those of Nationwide as of the date noted, are subject to change at any time and may not come to pass.

S&P 500® Index: An unmanaged, market capitalization-weighted index of 500 stocks of leading large-cap U.S. companies in leading industries; gives a broad look at the U.S. equities market and those companies' stock price performance.

Nationwide Funds are distributed by Nationwide Fund Distributors LLC (NFD), member FINRA, Columbus, Ohio.

Nationwide Investment Services Corporation (NISC), member FINRA, Columbus, Ohio.

Nationwide, the Nationwide N and Eagle and Nationwide is on your side are service marks of Nationwide Mutual Insurance Company. © 2019 Nationwide
MFM-3474AO