Stocks face headwinds as drivers of return dry up
MAY. 06, 2020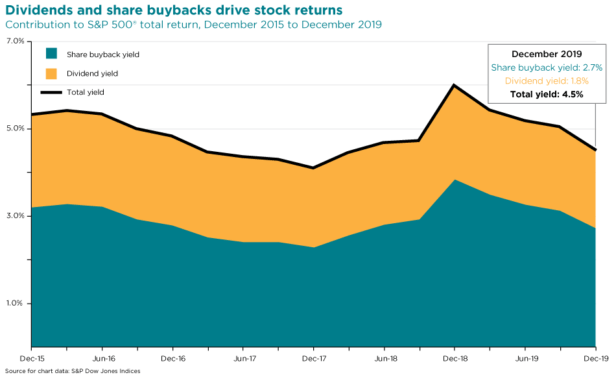 Since 2010, the S&P 500 has delivered an average annual total return of 13.4%, nearly double the 6.7% annual growth in operating profit for S&P 500 firms. Two major factors in that gap were dividends and share buybacks. The combination of strong cash flow generation in certain sectors (e.g., technology) and a very accommodating bond market drove strong growth in both dividends and buybacks, equaling $485B and $728B, respectively, in 2019. Dividends provided a 1.8% yield and buybacks added 2.7%, contributing a combined 4.5% to the S&P 500's total return last year and an average of 5.0% since 2015.
The coronavirus outbreak and subsequent economic collapse put these drivers at risk over the near and long term. Cash crunches are causing many companies to cut or suspend dividends, particularly in hard-hit and traditionally high yielding sectors like energy. In the past six weeks, the forecasted dividend over the next year for the S&P 500 has declined by 4% and is likely to continue.
So far this year, over 200 companies have cut or suspended dividends, for a cumulative total cuts of $23B. As a point of comparison, 55 companies slashed dividends in the last 10 years combined. The last time we saw drastic reductions in dividends was 2009, when 375 firms cut or suspended payments to shareholders.
Perhaps more at risk are share repurchases. Companies that are struggling during the pandemic have recently come under fire for aggressively buying back stock while also requesting assistance from the government. These firms may face pressure to ease or eliminate future share repurchases. Additionally, companies that levered their balance sheets over the past decade through bond issuance and subsequent share repurchases may likely be unable or unwilling to do so going forward.
This presents an interesting challenge for equity markets, considering that publicly-traded companies were large incremental buyers of equities over the past cycle, as retail and institutional investors sold equities in favor of bonds. If more companies step back as net purchasers of stocks, what buyers will step in to offset this slack?
Review relevant client material from Nationwide
Disclaimers
This material is not a recommendation to buy, sell, hold or roll over any asset, adopt an investment strategy, retain a specific investment manager or use a particular account type. It does not take into account the specific investment objectives, tax and financial condition or particular needs of any specific person. Investors should discuss their specific situation with their financial professional.

Except where otherwise indicated, the views and opinions expressed are those of Nationwide as of the date noted, are subject to change at any time and may not come to pass.

Past performance does not guarantee future results. Current performance may be lower or higher than the past performance shown.

S&P 500® Index: An unmanaged, market capitalization-weighted index of 500 stocks of leading large-cap U.S. companies in leading industries; gives a broad look at the U.S. equities market and those companies' stock price performance.
MFM-3709AO