Student loans loom for future investors
MAR. 15, 2019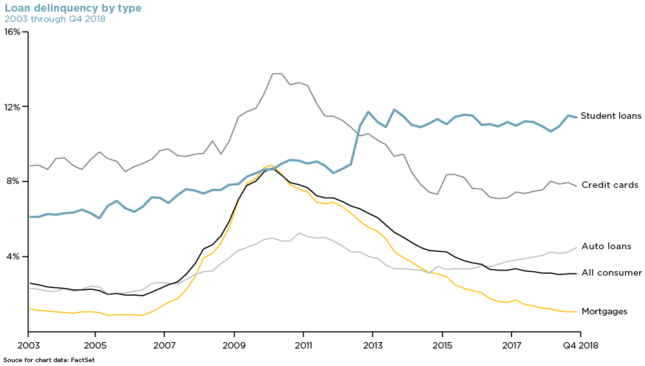 Student loan debt has expanded since the end of the financial crisis, even as the economy has improved and growth in other forms of debt (notably mortgage debt) has been flat. Total student loans outstanding currently stand at $1.5 trillion, three times what it was in 2007.
Perhaps more significantly, student loan delinquencies have been rising. The percentage of student loans 90-days past due is currently at 11%, higher than any other loan category. (See chart above.) This may be the start of what could be a large wave of student loan delinquencies. The Federal Reserve Bank of New York estimates the delinquency rate may be understated by as much as half, implying total delinquent loans may be as much as $333 billion.
The share of young adults struggling financially is likely to grow, which may have implications beyond this generation. Down-sizing Baby Boomers may see less buying interest for their homes as heavy debt loads keep young adults out of the housing market. And as these young adults get older, they are likely to depend more on their stock investments during their peak earnings years to help them fund their retirement needs.
Review relevant client material from Nationwide
MFN-0263