The Fed goes big to battle market stress
MAR. 31, 2020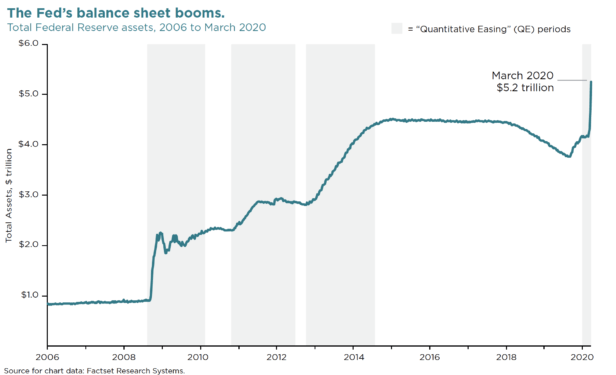 Back in February (seems so long ago right now), the stock market was soaring to record highs, but the bond market was signalling stress; the yield curve flattened as the Federal Reserve cut interest rates and fears of a pending recession grew.
Bond investors are not epidemiologists and could not forecast the current global pandemic. But the bond market has a better track record than the stock market of identifying signs of stress. Over the last several weeks, the COVID-19 crisis has taxed the bond market's "plumbing"–the financial channels that conduct the flow of cash and credit throughout the economy–but did not break it. Current credit market conditions point to a growing likelihood of a recession, but are not indicating an economic collapse.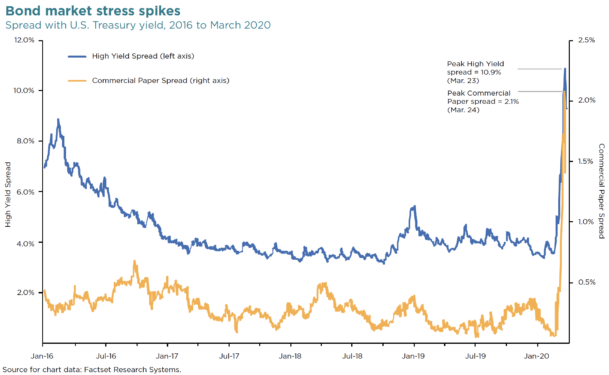 The Fed's March 23rd announcement to expand purchases U.S. Treasuries and other fixed income securities shows there's no limit to the measures the Fed is willing to take to support the financial markets and the U.S. economy. The Fed's latest round of "quantitative easing" now covers corporate bonds and bond ETFs, municipal bonds, commercial mortage-backed and asset-backed securities, in additional to Treasuries and mortgage-backed bonds.
Other financial-crisis era programs, including the Money Market Mutual Fund Liquidity Facility (MMLF) and Commercial Paper Funding Facility (CPFF), have been revivied and appear to be settling nerves. But as a result of these efforts, the Fed's balance sheet swelled to $5 trillion for the first time. (See the chart above.)
Investors can check the temperature of current bond market conditions by looking at the spreads or differences in yield between different bond types and U.S. Treasury rates. For instance, spreads for high-yield bonds (representing debt of riskier companies) touched 10.9% on Monday, March 23, but settled to 9.3% by last Friday. Spread for commerical paper (short-term corporate debt) widened to 2.1% on Tuesday, March 24, before dropping to 1.4%. (See chart above.)
It's too early to sound an "all clear" signal, but the current bout of bond market stress looks more similar to the shocks in 2011 and 2016, rather than the pain from 2008.
Review relevant client material from Nationwide
Disclaimers
This material is not a recommendation to buy, sell, hold or roll over any asset, adopt an investment strategy, retain a specific investment manager or use a particular account type. It does not take into account the specific investment objectives, tax and financial condition or particular needs of any specific person. Investors should discuss their specific situation with their financial professional.
Except where otherwise indicated, the views and opinions expressed are those of Nationwide as of the date noted, are subject to change at any time and may not come to pass.

Past performance does not guarantee future results. Current performance may be lower or higher than the past performance shown.

Nationwide Funds are distributed by Nationwide Fund Distributors LLC (NFD), member FINRA, Columbus, Ohio.

Nationwide Investment Services Corporation (NISC), member FINRA, Columbus, Ohio.

Nationwide, the Nationwide N and Eagle and Nationwide is on your side are service marks of Nationwide Mutual Insurance Company.

© 2020 Nationwide
MFM-3627AO