Will the Fed go back to balance sheet expansion?
OCT. 02, 2019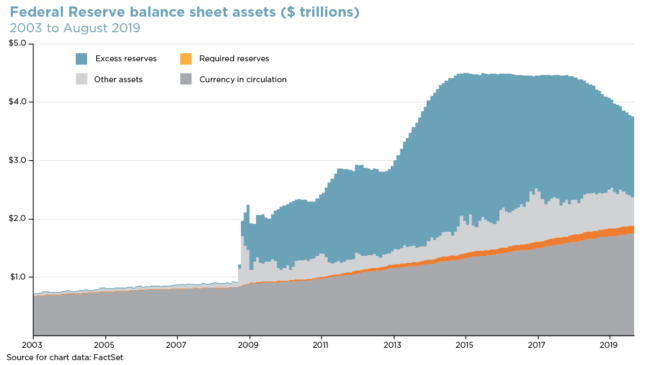 While the recent Federal Reserve rate cut dominated the news cycle last week, another development in the fixed income market induced flashbacks to the financial crisis of 2008. More than $1 trillion moves through the repo market (overnight repurchase agreements) every day, providing crucial "plumbing" to the broader financial market. The repo market usually doesn't draw much attention… until it does, often signalling potential trouble such as liquidity issues and market stress. Previous bouts of instability in the repo market hit just before the last two bear markets.
Why did the repo market return to the news last week? A "perfect storm" of technical factors (a planned auction of U.S. government bonds coincided with corporate tax deadlines and a bank holiday in Japan) revealed supply/demand imbalance in the repo market. As a result, the rate big Wall Street banks pay in borrowing costs shot up above the Federal Reserve's target rate (the rate they usually pay for interbank borrowing.) Central bank intervention in the following days quickly resolved the imbalance, but not before unsettling the nerves of many on Wall Street.
The impact of these operations will grow the Fed's balance sheet. The chart above shows Federal Reserve assets have declined in the years since quantitative easing has ended. Fed chairman Jerome Powell, during remarks in his post-rate-cut press briefing, hinted that the runoff of Fed assets and the shrinkage of excess reserves may be impacting their ability to manage liquidity in the system. If the U.S. central bank takes a more proactive approach to repo market liquidity going forward, the Fed could begin to expand its balance sheet again in line with overall currency.
Review relevant client material from Nationwide
Disclaimers
This material is not a recommendation to buy, sell, hold or roll over any asset, adopt an investment strategy, retain a specific investment manager or use a particular account type. It does not take into account the specific investment objectives, tax and financial condition or particular needs of any specific person. Investors should discuss their specific situation with their financial professional.

Except where otherwise indicated, the views and opinions expressed are those of Nationwide as of the date noted, are subject to change at any time and may not come to pass.

Nationwide Funds are distributed by Nationwide Fund Distributors LLC (NFD), member FINRA, Columbus, Ohio.

Nationwide Investment Services Corporation (NISC), member FINRA, Columbus, Ohio.

Nationwide, the Nationwide N and Eagle and Nationwide is on your side are service marks of Nationwide Mutual Insurance Company. © 2019 Nationwide
MFN-0296AO