FARE helps Black financial professionals thrive
November 02, 2021
For more on this and other useful insights you can use with clients, check out the latest issue of Current from the Nationwide Retirement Institute.
The underrepresentation of minority financial services professionals has long been a challenge for the financial services industry. Nearly a year ago, the Financial Alliance for Racial Equity, or FARE, was formed with the mission to increase racial diversity, drive greater equity and foster inclusion within the financial services industry and the communities we serve. While a lofty goal, I am pleased to share how far we have come in a short time.
Nationwide has a long-standing commitment to diversity and inclusion in the financial services industry based on our belief that a more diversified industry can benefit firms, financial professionals and consumers — and advance social justice. However, we must first understand the challenges individuals and communities of color face in order to create change, make an impact and deliver results.
Recent Nationwide Retirement Institute®i research reveals that nearly 90% of Black college students considering a financial services career report they believe there are challenges that specifically affect Black advisors and financial professionals in the industry today. This sentiment is echoed by current Black advisors and financial professionals, with 87% agreeing Black professionals will face distinct challenges.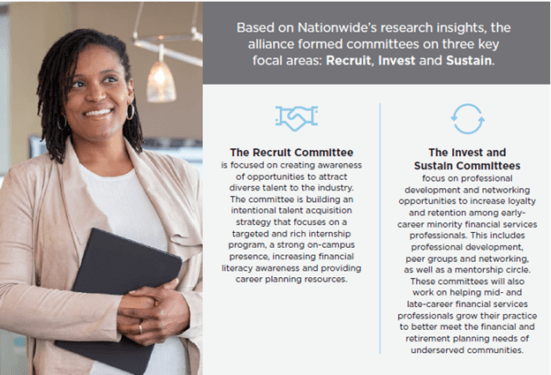 These findings help paint a picture of the barriers to entry and growth facing Black financial professionals today. We learned that the largest challenges perceived by Black advisors are a lack of mentorship opportunities, discrimination on the part of the consumer and lack of a natural market. We also learned from the research that we need more Black executives in the industry so others can envision themselves in similar roles. Black professionals tell us they need to "see it to be it."
To advance actionable solutions and contribute to lasting change in the industry, Nationwide partnered in September 2020 with leading financial services organizations, associations and historically Black colleges and universities (HBCUs) to form FARE. Members include Morgan Stanley, M Financial Group, Franklin Templeton, NFP, Huntington Bank, Miami Life, Advisor Group and Nationwide.
The partnering HBCUs include Hampton University, Howard University, Lincoln University, Virginia State University, Virginia Union University and Winston-Salem State University. Industry partners include the Employee Benefit Research Institute and The American College of Financial Services.
With the unique partnership of HBCUs and financial services organizations, members of the alliance seek to build sustainable economic wealth in diverse communities and increase the number of Black advisors and financial professionals through mentorship opportunities, expanded research and increased training. The alliance is providing Black college students with direct access to executive mentors at member firms, while also creating a new talent pathway for students at member HBCUs and leading financial services firms.
Our scope is not limited to Black financial professionals; it includes Black or other minority professionals in the financial services industry across all disciplines — Marketing, Operations, Advisory, etc. We want to transform the financial services industry to better serve minority employees and communities — current and future generations — using actionable and measurable solutions.
I'm excited about how the education and financial services industries have been able to come together, using research as the basis for change. Based on our initial success and traction, I'm confident we will continue to drive meaningful change.
Specific accomplishments to date include:
FARE was honored with a Diversity Champion Award at the 2021 InvestmentNews Excellence in Diversity, Equity & Inclusion awards event
FARE took top honors in the Asset Manager: Diversity, Equity and Inclusion category at the 2021 WealthManagement.com industry awards
FARE is a finalist for other prestigious industry awards, including the ThinkAdvisor LUMINARIES, which will be awarded in November 2021
FARE will soon be launching a scholarship program
We created several marketing assets — including a video series highlighting diverse talent within FARE member firms — to be shared with FARE members, HBCU students and at career fairs
We also recently held our second annual FARE summit, where alliance members shared their thoughts, objectives and next steps.
Here's what some of them had to say:
"Partnering with HBCUs offers us direct access to some of the best and brightest students in the United States and also offers us access to those individuals who can go in and succeed through internships but also as financial services professionals. In turn, these professionals will leverage that education and social experience that they were fortunate to receive at an HBCU to help bridge the wealth gap in those communities that are underrepresented. Those individuals will also serve as future mentors and leaders in this industry. It's sowing the seed that will help build stronger families, stronger communities and also a stronger country."
– Clarence Knox, Senior Vice President of Global Sales, Miami Life "By working together, we know we can produce greater results and drive structural change in the industry and within those underserved communities. We know Black college students and financial professionals need to see real change. Our commitment is for long-term change, and it won't happen overnight. It's not only the right thing to do — it's good business."
– John Carter, President and COO of Nationwide Financial
"Partnerships are really about sharing and connecting in ways that allow you to have a multiplying effect that you cannot achieve individually. I am looking forward to seeing us continue to advance those kinds of specific actions."
– Wes Thompson, President and CEO of M Financial
"We have recognized the significance of this moment in time. We can always learn from one another through the FARE coalition. We are building a framework that will last and offer more diverse students and financial professionals more opportunities. The time is right. This initiative is right."
– Mike James, Executive Vice President, NFP Life Solutions
As a proud HBCU grad, I believe it is the duty of HBCU graduates to pay it forward. I am so excited for these opportunities to enrich the lives of minority professionals through scholarships, internships, and intentional development programs.
And we're not just paying lip service. With our research-based approach, we are proving we can get to the root causes and do the hard work to diversify representation in our industry and also among the audiences we serve to help close the wealth gap. And it has to start at the top. Leaders must populate their organizations with high-performing talent, including a diversity of employees who bring a unique set of experiences, skills and capabilities.
I'm encouraged by FARE creating this network of opportunity, which is essential to addressing the challenges that Black college students and financial professionals face today.
NFM-21425AO