COVID magnified the need to improve access to mental health care.
July 15, 2022
The COVID-19 pandemic didn't have an impact only on people's physical health; it also created a mental health crisis. Many people experienced anxiety and depression as they had to deal with not only the potential threat to their lives, but also lockdowns, the resulting social isolation and all the other direct and indirect consequences of a global pandemic. The good news though is that the mental health issues stemming from the pandemic were quickly recognized and additional resources were made more widely available to help people deal with them.
Recognizing the scope of the problem
The impact of the pandemic on mental health was evident in a poll by the Kaiser Family Foundation (KFF). During the pandemic, four in 10 Americans said they were experiencing symptoms of anxiety or depressive disorder.i That was a significant increase from the one in 10 who had reported those symptoms two years earlier, before anyone had heard the term "COVID-19." See Exhibit 1.
Another KFF poll found that more people were having trouble sleeping and eating, consuming alcohol more often or experiencing a worsening of chronic ailments because of the worry and the stress they were experiencing over the pandemic.ii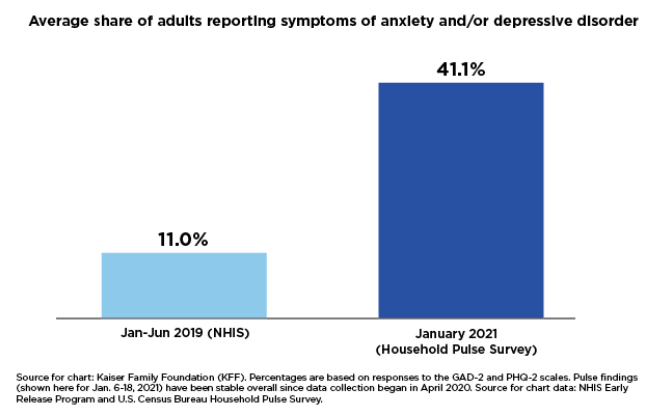 An impact on all age groups
While the virus itself might have had a greater impact on the physical health of older people, no age group was immune from the consequences that living through a pandemic had on their mental health. At all ages, people faced stressors unlike anything they'd ever experienced.
Children
Most kids lost a year or more of in-person schooling, and virtual classes didn't impart the same level of learning.
Experts in education are only beginning to assess the impact all that lost time in live classrooms will have on this generation of children.
Many children became sick with the virus themselves or lost a parent, grandparent, or caretaker to the virus.
High school students missed the opportunity to take part in all the rites of passage that pre-stage their transition into adulthood like proms and graduation ceremonies.
For too many, it felt like the end of their childhood was stolen from them.
Young adults
As colleges became ghost towns, students lost all the joys and camaraderie offered by campus living.
Those students who didn't opt to take time off were stuck listening to lectures on computers in their childhood bedrooms, as closed campuses forced them to return home.
Young adults entering the job market faced diminished prospects as hiring slowed down greatly. In its survey, KFF found that a larger-than-average share of adults aged 18 to 24 were reporting symptoms of anxiety and depression.iii
While this age group is already at heightened risk for mental health issues, during the pandemic there was a stark increase in the number of young vs. older adults who were reporting problems with substance abuse (25% vs. 13%) or having suicidal thoughts (26% vs. 11%).iv
Adults
While working from home provided flexibility and freedom from daily commutes, as the workplace shutdowns continued month after month, the social isolation became wearisome and stressful for many people.
For parents with young children, the absence of in-person schooling and closed daycare centers meant they had to juggle their work and family responsibilities simultaneously.
Many parents, and disproportionately mothers, had to quit their jobs because without their usual support network child-rearing became all-consuming.
Frontline workers such as doctors and nurses had to keep reporting to work in what had become a life-threatening environment.
Not surprisingly, the KFF survey during the pandemic found a much higher incidence among essential workers vs. non-essential workers of anxiety, depression, substance abuse, and suicidal thoughts.v
The elderly
Being at increased risk for the virus created mental stress, not to mention the grief experienced by those who lost loved ones and friends.
Among the residents of nursing homes, death rates increased and, for those who escaped the virus, the respite that seeing family members and friends could offer was no longer possible as "no visitors" policies had to be enforced.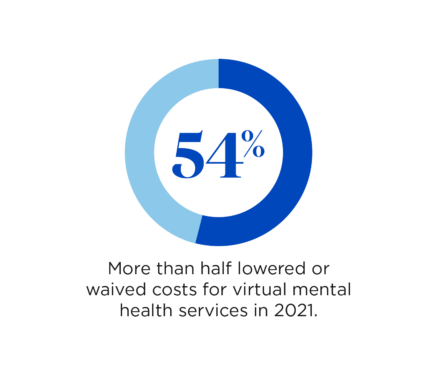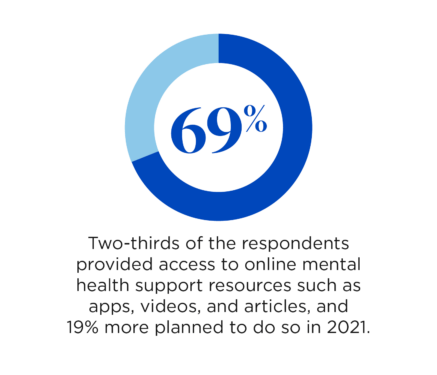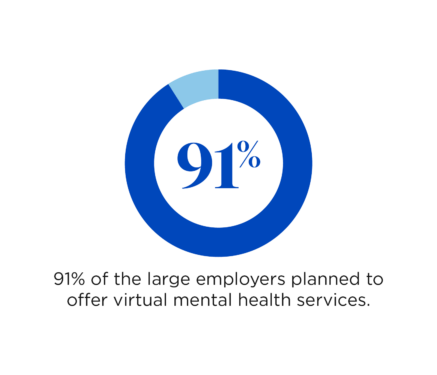 Mental health support increased
While the pandemic presented multiple challenges, the one positive from a mental health perspective was that as a society we were much better prepared to help people deal with a crisis of such proportions. More employers recognized they needed to pay attention to their workers' mental health and offered resources to those who needed support.
A survey of large employers conducted in 2020 by the Business Group on Health found that nearly half (47%) trained their managers on how to recognize mental health issues and direct staffers experiencing them to available resources. Another 18% of employers planned to begin such training in 2021.vi The same survey showed companies also looked to provide more and less expensive access to counseling services:
91% of the large employers planned to offer virtual mental health services.
Two-thirds of the respondents (69%) provided access to online mental health support resources such as apps, videos, and articles, and 19% more planned to do so in 2021.
More than half (54%) lowered or waived costs for virtual mental health services in 2021.
More than a quarter (27%) planned to reduce the cost of counseling services at the worksite, in line with the growing trend of bringing services directly to employees.
Anti-stigma training helped foster acceptance
Half of the larger employers (51%) were also planning to provide anti-stigma training.vii That is in line with the societal trend of the de-stigmatization of metal health issues. A team of researchers looked at public opinion surveys from 1996 to 2018 and found increasingly less judgmental views of people with mental illnesses. Over that nearly 20-year period, for example, the unwillingness to work with someone dealing with depression dropped by 20%, and the desire not to socialize with someone with depression fell by more than 16%. Younger generations also demonstrated a much less negative view of mental illness and a greater willingness to seek help when they need it.vii
The increase in the number of ads for mental health services and the many celebrities, like Olympic swimming champion Michael Phelps, who have been open about their struggles with illnesses such as depression, have also helped reduce the stigma. In an assessment of the impact of a California public service campaign designed to minimize the stigma associated with mental health issues, the Rand Corporation estimated that the state's ads might have increased the number of people willing to seek treatment by as much as a third.viii
The best practices for all parties are clear
The commendable response to the heightened mental health needs that arose during the pandemic demonstrated the path everyone can take to ensure these issues are continually addressed.
The providers of private and employer sponsored health insurance must continue to expand coverage for mental health services and make it more affordable and accessible for the benefit of all. Individuals should take advantage of all resources available to them, including any employee assistance programs that their employers may provide.
Much progress has been made in recent years to increase the awareness, acceptance and treatment of mental health issues. A fortunate byproduct of the pandemic was that it increased the availability of virtual mental health services, which provides a convenient way for more people to gain access to care.
As an investment professional, you can also contribute to this support. In working with clients, you might notice someone who seems to be struggling with stress caused by the pandemic. Asking how they're doing can reveal how willing they are to talk about it. For those who are, ask if they're getting the support they need to help manage those stresses. Their answers will indicate whether they are willing to hear about any community resources or counseling professionals you could recommend. Helping clients with their financial decisions inevitably crosses over to life issues. Any support you provide on these matters to those willing to receive it may be welcome. More can be done to address the country's health crisis, but the response by so many already has demonstrated that we as a society can collectively rise to the challenge.
NFM-22191AO