Jennifer MacKenzie
SVP, Enterprise Brand Marketing and Customer Advocacy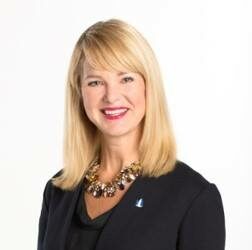 Jennifer MacKenzie is the Senior Vice President of Nationwide's Enterprise Brand Marketing and Customer Advocacy and has been a part of the Nationwide team since 1998.
In this role, Jennifer oversees Nationwide's brand strategy, customer advocacy and Nationwide customer experience. She is also in charge of advertising and media, sports sponsorships and diverse and cause marketing.
Jennifer has held a variety of leadership positions at Nationwide, including Senior Vice President of Nationwide's Financial Services Marketing, Vice President of Nationwide Insurance Advertising, Sponsorships and Affinity Marketing and Brand Manager for Nationwide's public-sector retirement plans business. In addition, she helped form the enterprise Corporate Marketing function at Nationwide as the Staff Officer to the first CMO.
Prior to Nationwide, Jennifer held a variety of positions in marketing, market planning and development at The Limited and The Ohio State University.
Jennifer is a graduate of Miami University of Ohio with a degree in business administration. She studied international business in Luxembourg and earned her MBA from The Ohio State University. Jennifer also holds her FINRA Series 6 and 26 licenses.