How financial professionals can make strong connections with Black consumers
February 07, 2023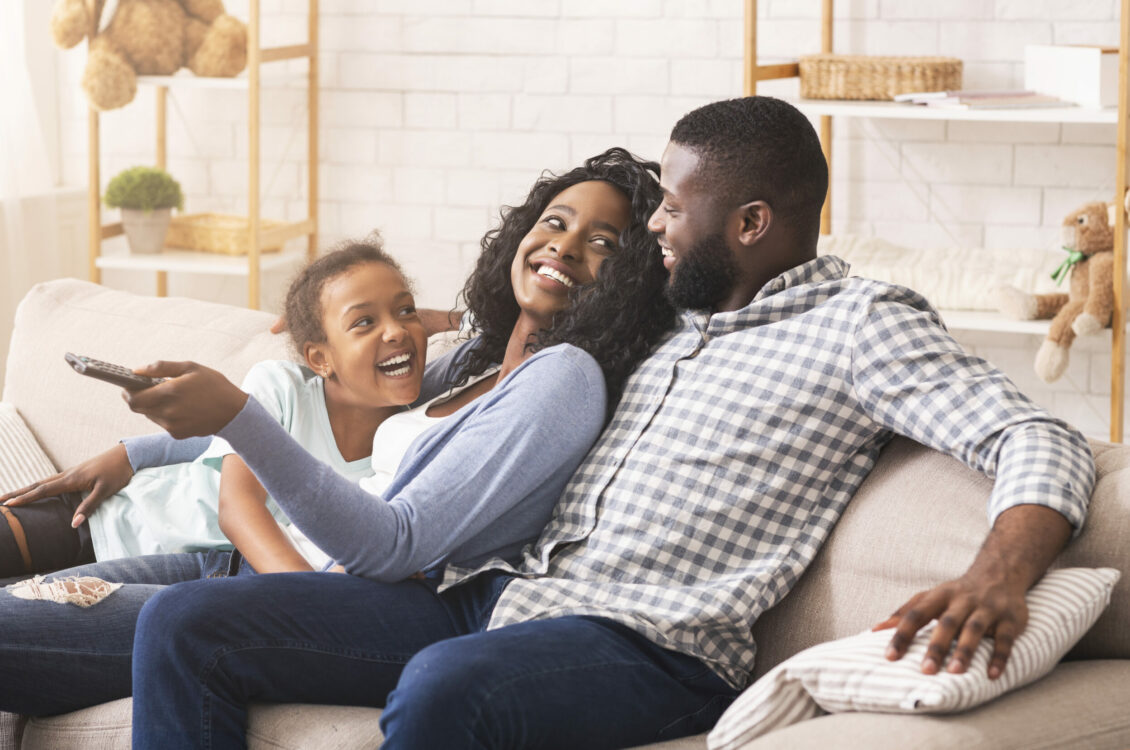 In recognition of Black History Month, we are highlighting the connections between wealth and well-being among Black consumers with a focus on raising awareness of the persistent gaps in financial planning and the links between financial health and personal well-being.
As professionals in the financial services industry, we know that financial wellness and resiliency play an integral role in the overall well-being of clients and their perception of security. That's why we're directing the conversation with financial professionals toward bridging the wealth divide and fostering better financial health among Black consumers.
Stressors between health and wealth
When examining the connections between financial and personal wellness, the COVID-19 pandemic in 2020 presents a perfect example of the different ways – physically, mentally, and financially – that people were affected by the virus. For many Black Americans, the financial impacts of COVID-19 were particularly acute. A recent Nationwide Retirement Institute® survey1 found that the majority of Black Millennials (57%) felt they had been negatively impacted by financial stress during the pandemic. In fact, one in five young Black adults said financial stress impacted their overall health. While the numbers were lower for older generations of Black Americans, the negative financial impacts were still significant for 46% of Black Gen Xers and 27% of Black Boomers.
One of the core financial stressors for Black Americans is planning for retirement. The same survey polled Black Americans across different age cohorts to discover specific stressors about retirement. Among Black Millennials, Gen Xers and Baby Boomers, inflation and rising prices ranked highly as either the first- or second-highest stressor. Worries about Social Security funding, rising healthcare costs and higher taxes also scored among the top stressors for Black Americans when planning for retirement.
Providing Social Security information
Understandably, Social Security is a confusing topic for many investors approaching retirement, making it one of the most important topics that financial professionals should cover with their clients. In another Nationwide Retirement Institute® survey­2 we found that two-thirds said that they expect Social Security advice from their financial professional. However, more than half reported that they are not confident in their knowledge of Social Security which could be, in part, because 35% said their financial professional had not provided them with any advice on how and when to file for Social Security benefits. This is a huge opportunity for financial professionals to make sure they are providing the knowledge their clients are seeking.
Four in five Black Americans surveyed said they would seek out a new financial professional if he or she could provide them with information on maximizing Social Security benefits.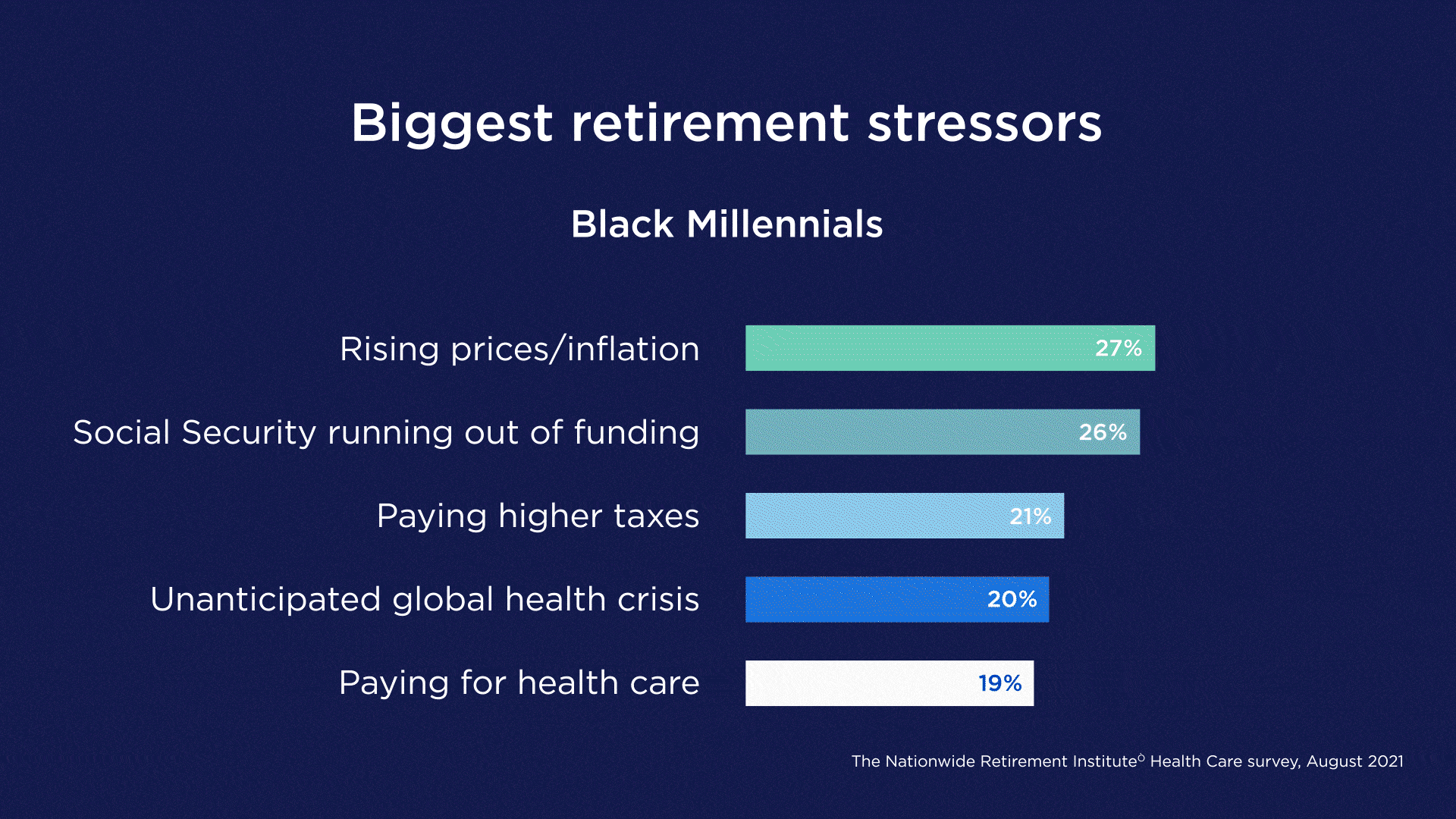 Bridging the financial gap
Social Security isn't the only problem facing Black Americans. Roughly 1.3 million Black adults have less access to financial information and services including banking and lines of credit.3  So it is imperative that financial professionals support the financial goals of Black Americans and help increase financial education across the board. Black American buying power and the number of Black-owned businesses are rising due in part to increasing education levels.4 Further, the U.S. population as a whole continues to experience growing racial and ethnic diversity. According to the U.S. Census Bureau, the U.S. population is expected to become majority minority by 20455 This represents a clear opportunity for financial professionals to forge relationships with Black and other racially diverse U.S. populations segments.
Financial professionals can lead the way to economic empowerment by encouraging Black Americans to save early and invest in tax-advantaged savings vehicles and protection products. Providing culturally relevant financial education about the social and cultural impact of wealth building and wealth transfer is imperative.
Building a foundation for lifelong clients
The good news: there are ample opportunities for financial professionals to create solid connections with current and prospective Black clients and improve overall financial wellness by providing guidance on specific needs.
As mentioned, our survey6 found that the number one financial goal for all Black consumers is saving for retirement. After that, priorities differ especially when comparing consumers who have working relationships with financial professionals with those who don't.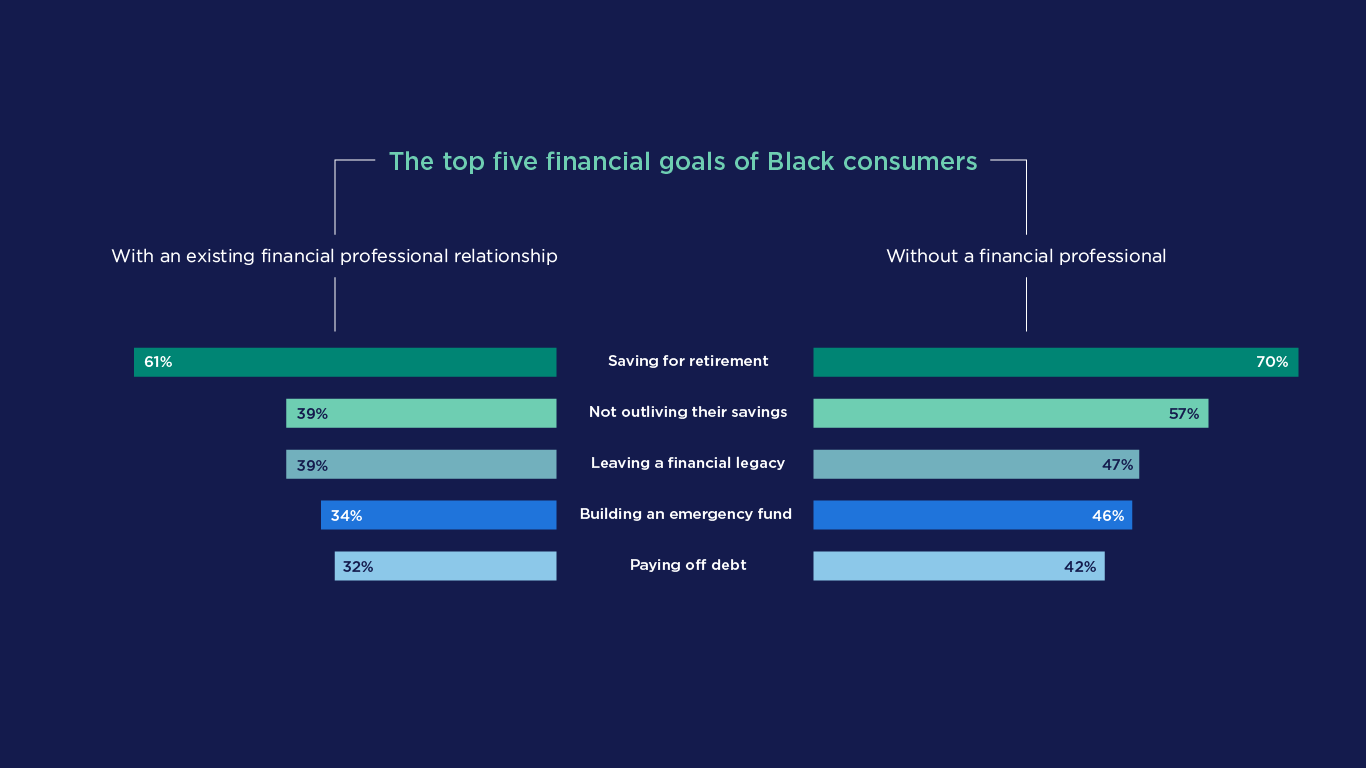 The guidance financial professionals provide is vital to building confidence with Black clients while fostering a sense of financial well-being. It's even more important because half of all Black consumers feel their overall financial situation is not better than previous generations.
When compared with non-Black clients, Black clients are more likely to have a written retirement plan but less likely to have a legal will. This data is further evidence that financial professionals — and the entire financial services industry — have a significant opportunity when it comes to bridging the wealth gap and helping orchestrate generational transfers of wealth among Black consumers. Being proactive about financial planning and helping Black clients achieve their goals improves the financial health and stability of Black communities.
Taking an overdue and vital first step
An often overlooked element to creating economic and wealth equity within Black communities is the need for more Black financial professionals in client-facing roles as advisors and representatives. The majority of Black consumers (53%) want to work with financial professionals who share their racial background, but this desire doesn't always pan out. While 61% of Black consumers currently working with a financial professional want to work with one who shares their racial background, only 38% are actually able to do so.
Black investors remain an underserved market, but it is clear they are ready and willing to embrace financial guidance and solutions. As such, financial professionals can and should focus on building strong relationships with Black investors to improve their financial wellness, close the racial wealth gap and create legacies for future generations. Together, we can change the trajectory of financial well-being and security for a historically underserved population.
Sources/Disclaimers
1

Nationwide Retirement Institute® HealthCare Survey, August 2021

2

Nationwide Retirement Institute® Social Security Survey, May 2022

6

Nationwide Retirement Institute®  Survey on Black Consumers, November 2021

Disclaimer:

Health Care Survey Methodology: The 2021 Nationwide Retirement Institute Health Care survey was conducted online within the United States of 1,800 adults aged 25 and over by The Harris Poll on behalf of The Nationwide Retirement Institute. Respondents for these surveys were selected from among those who have agreed to participate in our surveys. Because the sample is based on those who agreed to participate in the online panel, no estimates of theoretical sampling error can be calculated. Data are weighted where necessary by age by gender, race/ethnicity, region, education, income, marital status, household size, and propensity to be online to bring them in line with their actual proportions in the population.

Social Security Survey Methodology:  The 2022 Consumer Social Security Survey was conducted online within the U.S. by The Harris Poll on behalf of Nationwide between April 25 and May 23, 2022 among 1,853 U.S. adults age 26+ (national sample) including 674 Millennials (age 26-41), 576 Gen Xers (age 42-57), and 603Boomers+ (age 58+) and an oversample for a total of 502 Hispanic adults, a total of 591 Asian adults, a total of 593 Rural adults. Data were statistically weighted as needed to bring them in line with the population of U.S. residents age 26+ from the 2022 Current Population Survey for age by gender, education, race/ethnicity, region, household income, marital status, and household size. Our weighting algorithm also included a propensity score which allows us to adjust for attitudinal and behavioral differences between those who are online versus those who are not, those who join online panels versus those who do not, and those who responded to this survey versus those who did not.

Black Consumer Survey Methodology: The survey on Black/African American Consumers was conducted online within the U.S. by The Harris Poll on behalf of Nationwide between October 5 and November 1, 2021, among 1,618 U.S. adults aged 35-75 with a household income of at least $75,000 and household investible assets of at least $150,000.

Data for Black and Non-Black groups were weighted separately. The Black sample was statistically weighted as needed to bring them in line with the Black/African American population of U.S. residents aged 35-75 with a HH income of at least $75K and HH investible assets of at least $100K from the Harris on Demand Archives from January to May of 2021 for education, age by gender, region, household income, household size, marital status, and investible assets.

This information is general in nature and is not intended to be tax, legal, accounting or other professional advice.

The information provided is based on current laws, which are subject to change at any time, and has not been endorsed by any government agency.

Neither Nationwide nor its representatives give legal or tax advice. Please have your clients consult with their attorney or tax advisor for answers to their specific tax questions.
NFN-1280AO.1