A good time for a risk check-up
January 25, 2023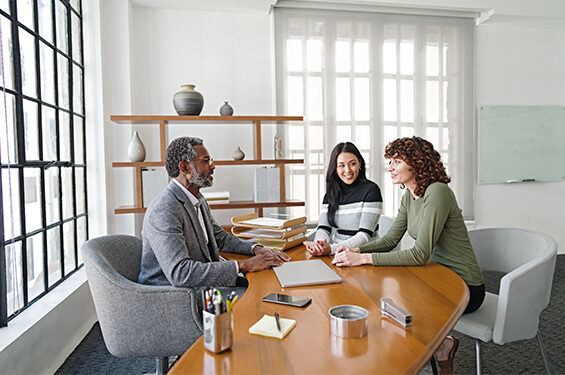 The start of a new year presents opportunities for clients to make positive changes for their financial futures. Last year's considerable losses and market fluctuations underscore the need for clients to assess their retirement plans to ensure it aligns with their objectives, financial situations, timelines, and attitudes toward market volatility. According to a recent Advisor Authority survey, powered by the Nationwide Retirement Institute®, only 20% of non-retired investors have confidence in their retirement plans despite market volatility. Clients should not get discouraged by their portfolio's past performance. You can help them start the year right by conducting a retirement checkup. Here are some key points to use with clients as you help them assess their retirement plans.
Review risk tolerance and current asset allocation strategy
It's important to ensure your clients' portfolios align with their risk tolerance because taking too much risk can negatively impact their ability to navigate market fluctuations. Suppose they made emotional investment decisions during the market volatility of 2022. In that case, they should consider their comfort levels with risk by adjusting their investment strategy and asset allocation to ensure their portfolio aligns with their goals and risk tolerance. For example, our recent Advisor Authority found that 63% of financial professionals use diversification and non-correlated assets to protect their clients against market risk. This strategy highlights the effectiveness of diversification in managing market risk.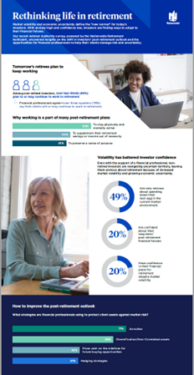 Identify why objectives are not on track with goals
49% of non-retired investors reported feeling anxious about spending down their nest egg in the current market environment. Instead of allowing this nervousness to drive investment decisions, investors should take proactive measures such as boosting savings, investing through employer-sponsored plans, and understanding how changes in the market may affect the amount of money they need for retirement.
Reinforce with your clients how crucial a financial plan is in providing a clear overview of their current situation, goals, and the steps needed to achieve them. A plan can help clients determine if they're on track for their retirement goals. On the other hand, not having a plan can lead to emotional investment decisions during periods of high volatility – something every investor should avoid.
Don't overlook the tax efficiency
Clients can easily overlook the tax efficiency of their investment portfolios because people often focus on general tax planning rather than on how their investments affect taxes. However, strategies such as asset location and tax loss harvesting can significantly minimize taxes on investments. Asset location involves placing investments in the appropriate accounts, which can reduce current-year taxes and positively impact your retirement tax situation. Additionally, tax loss harvesting can be used in taxable accounts to lower taxes on capital gains.
Consider the need for rebalancing
Rebalancing is adjusting the allocation of assets to maintain a comfortable level of risk. By returning the portfolio to its original asset mix, rebalancing helps clients keep their risk exposure in check. The chart below illustrates the potential consequences of not rebalancing.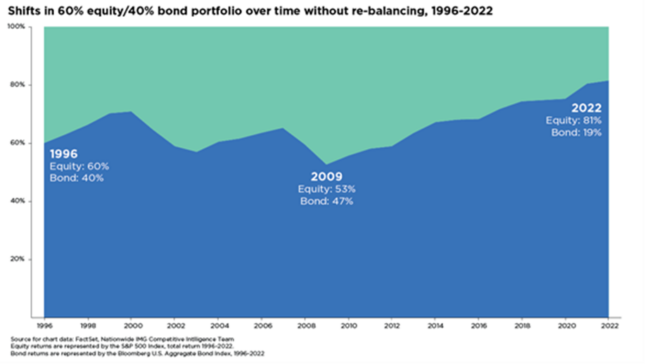 A hypothetical portfolio that began in 1996 with a moderate risk allocation of 60% stocks and 40% bonds would have shifted to 81% stocks and 19% bonds by the end of 2022 had it not been rebalanced. This shift would have resulted in a riskier portfolio with increased volatility.
As 2023 gets underway, it's an excellent time to sit with clients to reflect on the past performance of their investments and strategize for the future. Reviewing personal and financial objectives can help to ensure success in 2023 and beyond.
Sources/Disclaimer
This material is not a recommendation to buy or sell a financial product or to adopt an investment strategy. Investors should discuss their specific situation with their financial professional.

Except where otherwise indicated, the views and opinions expressed are those of Nationwide as of the date noted, are subject to change at any time and may not come to pass.

Nationwide Funds are distributed by Nationwide Fund Distributors LLC, member FINRA, Columbus, Ohio. Nationwide Investment Services Corporation, member FINRA, Columbus, Ohio.

Nationwide, the Nationwide N and Eagle and Nationwide is on your side are service marks of Nationwide Mutual Insurance Company. © 2023 Nationwide
NFN-1405AO