Immaculate disinflation: A long way to lower inflation
February 22, 2023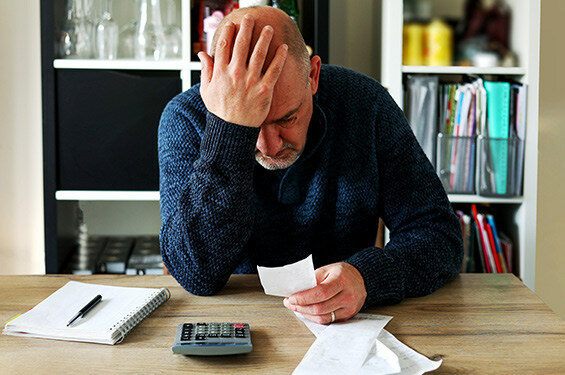 The uncertain forecast for the U.S. economy in the near term has not only contributed to widely disparate expectations about the path of Federal Reserve interest rate policy. Still, it has also created new words and phrases that have confounded many investors. (Think "transitory inflation" or "soft landing.") The latest expression buzzing through the financial media is "immaculate disinflation," which refers to the possibility of inflation falling quickly to the Fed's 2% target with minimal economic growth or employment damage.
Some clarity in terminology may be helpful at this point. To start, inflation describes the tendency of prices to rise over time (or conversely, the tendency for purchasing power to decline over time.) Disinflation is a slowdown in the pace of inflation, which we've seen over the last seven months as the annual inflation gradually fell from 9.1% in June 2022 to 6.4% last month. Deflation is an outright price decline that sometimes enters the inflation conversation.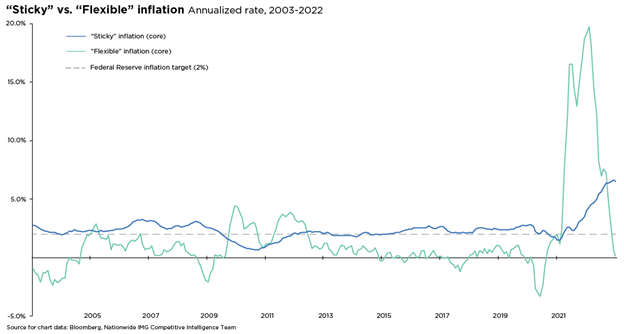 The Consumer Price Index (CPI) is the primary gauge of inflation in the U.S. economy. CPI has many components and categories, with goods and services being two broad categories. Much of the market's positive vibes about inflation since the start of the year is due to declining goods inflation, mainly as supply chains have unsnarled and improved. Service inflation remains a concern as tight labor conditions continue to drive up labor costs across the economy.
Another way to consider inflation is through "sticky" or "flexible" categories. Flexible inflation often measures items with relatively frequent changes in price, such as new vehicles, gas, food, and apparel. On the other hand, sticky inflation covers categories where price changes tend to occur slowly, such as rent, education, and medical care. As you may suspect, there's much overlap between service inflation and sticky inflation.
One critical risk to the "immaculate disinflation" narrative is if sticky inflation sticks above the Fed's 2% target. This could cause the Fed to increase its hawkishness and aggressively target the labor market and wage growth to cool spending and get inflation under control. Given the sticky nature of services inflation, it's unlikely that inflation will slow quickly enough for the Fed to reverse its tightening cycle anytime soon. Substantial price increases in many service categories may keep inflation hotter than the Fed would like for the rest of this year and into 2024. As a result, we project that the Fed will continue to raise interest rates at forthcoming meetings and keep monetary policy restrictive for some time.
The window for a soft landing caused by "immaculate disinflation" appears to be closing rapidly, with the odds of a hard landing or recession climbing with each successive Fed rate hike. Market participants should not assume disinflation will be a straight downward line but rather a longer, slower grind toward the Fed's preferred inflation target of 2%.
Sources/Disclaimer
This material is not a recommendation to buy or sell a financial product or to adopt an investment strategy. Investors should discuss their specific situation with their financial professional.

Except where otherwise indicated, the views and opinions expressed are those of Nationwide as of the date noted, are subject to change at any time and may not come to pass.

Nationwide Funds are distributed by Nationwide Fund Distributors LLC, member FINRA, Columbus, Ohio. Nationwide Investment Services Corporation, member FINRA, Columbus, Ohio.

Nationwide, the Nationwide N and Eagle and Nationwide is on your side are service marks of Nationwide Mutual Insurance Company. © 2023 Nationwide
NFN-1423AO