The good, the bad, and the volatile
January 19, 2023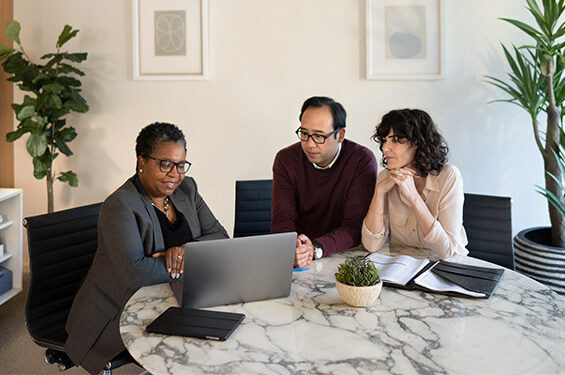 Arguably, 2022 was one of the most challenging years for equity and bond investors, but they need to remember that fluctuations in returns are a normal part of the investment process. Maintaining a clear perspective and focusing on long-term goals can help investors effectively navigate periods of market volatility.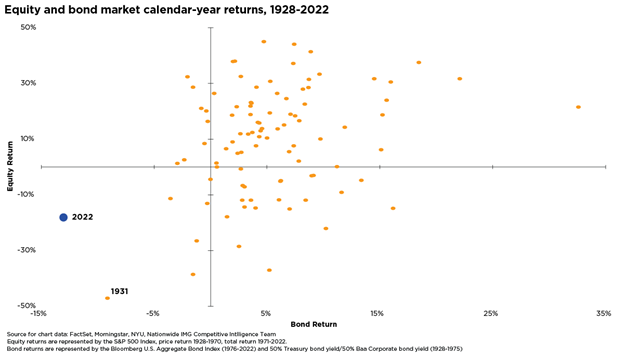 The chart above highlights how extraordinary the volatility in 2022 was for investors. The year will likely be remembered as one of the worst years for bond investors. Since 1928, there has been only one year when the S&P 500® Index and the 10-year Treasury dropped more than 10%, and that year was 2022. Likewise, at -13%, the Bloomberg U.S. Aggregate Bond Index suffered its worst year since 1994, almost four times larger than the -2.9% lost in 1994.
Market volatility in 2022 also hit the traditional 60% equity/40% bond model portfolio. This was the third worst calendar-year return for 60/40 portfolios since 2002, losing 16% in 2022. Investors have to look back to 2008 or 1974 to find worse returns. However, the chart above also offers hope: long-term investors have seen less volatility, as illustrated by the number of dots in the upper right quadrant. Historically, the longer investors hold on to their portfolios, the greater their chances for overall positive return.
These results also highlight the importance of maintaining strategies to help investors manage volatility and prevent them from selling at "peak" fear. The VIX Index, a common measure of the market's expectations for volatility over the coming 30 days, was above 20 for 91% of the trading days in 2022, suggesting a high level of market volatility during that year. It may not feel great for investors to embrace volatility at the present moment, but extreme volatility typically has been the exception rather than the norm throughout market history.
Disclaimer
This material is not a recommendation to buy or sell a financial product or to adopt an investment strategy. Investors should discuss their specific situation with their financial professional.

Except where otherwise indicated, the views and opinions expressed are those of Nationwide as of the date noted, are subject to change at any time and may not come to pass.

Bloomberg US Aggregate Bond Index: An unmanaged, market value-weighted index of U.S. dollar-denominated, investment-grade, fixed-rate, taxable debt issues, which includes Treasuries, government-related and corporate securities, mortgage-backed securities (agency fixed-rate and hybrid adjustable-rate mortgage pass-throughs), asset-backed securities and commercial mortgage-backed securities (agency and non-agency).

Bloomberg® and its indexes are service marks of Bloomberg Finance L.P. and its affiliates including Bloomberg Index Services Limited, the administrator of the index, and have been licensed for use for certain purposes by Nationwide. Bloomberg is not affiliated with Nationwide, and Bloomberg does not approve, endorse, review or recommend this product. Bloomberg does not guarantee the timeliness, accurateness, or completeness of any date or information relating to this product.

S&P 500® Index: An unmanaged, market capitalization-weighted index of 500 stocks of leading large-cap U.S. companies in leading industries; gives a broad look at the U.S. equities market and those companies' stock price performance.

S&P Indexes are trademarks of Standard & Poor's and have been licensed for use by Nationwide Fund Advisors LLC. The Products are not sponsored, endorsed, sold or promoted by Standard & Poor's and Standard & Poor's does not make any representation regarding the advisability of investing in the Product.

Nationwide Funds are distributed by Nationwide Fund Distributors LLC, member FINRA, Columbus, Ohio. Nationwide Investment Services Corporation, member FINRA, Columbus, Ohio.

Nationwide, the Nationwide N and Eagle and Nationwide is on your side are service marks of Nationwide Mutual Insurance Company. © 2023 Nationwide
NFN-1401AO