Inflation increases financial stress for many families
August 24, 2022
Rising inflation and fear of recession are big topics in the news right now, not just in the financial press. But these headlines aren't much of a surprise to many American families. Whether it's at the gas pump or the grocery store, the pressures and uncertainties about their financial pictures are apparent to them.
We wanted to get a better understanding of the financial challenges facing American families these days, especially as many of them face difficult choices in spending and saving for the future. This past July, we conducted an online poll of 1,150 U.S. families with children under age 18 to ask about their current perceptions and attitudes about their finances.
We found that increasing worries about inflation and recession are having negative effects on their financial outlooks, but many families are aware of the challenges and are ready to make moves to put themselves in a better financial position. There's a role for you, as a financial professional, to help make these preparations easier for your clients.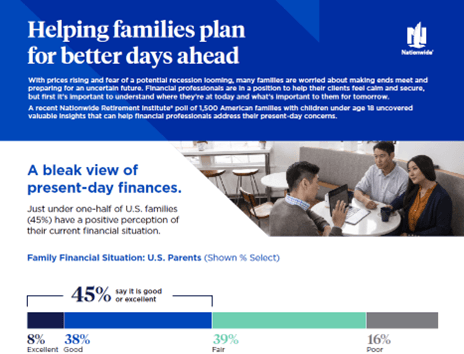 View the infographic here.
Rising prices heighten anxiety
Inflation is by far the biggest financial concern of American families, with 60% citing the rising costs of living as their top financial challenge right now. Other big challenges were also related to household spending – paying for gas, staying on budget and affording housing costs or rent payments.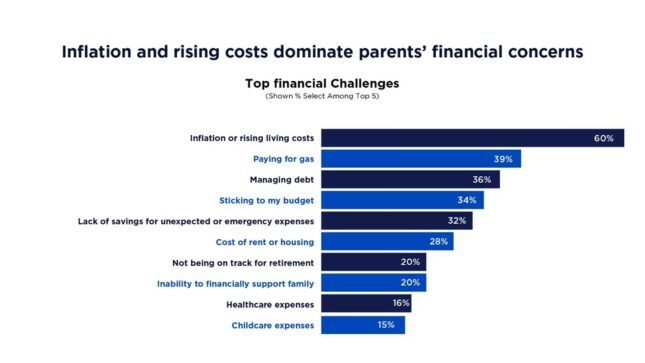 Considering these challenges, families aren't expecting things to get better anytime soon. When we asked survey respondents if they believe inflation will increase in the next year, an overwhelming number – 90% — said they either strongly or somewhat agree. That could help explain why a majority of families in our survey (55%) viewed their current financial situation negatively.
Concerns about a potential recession or economic slowdown are also running high. Among the families answering our survey, 88% somewhat or strongly agreed that there will be a recession or economic downturn in the next 12 months. Some families are in good financial shape to weather a potential recession, but many more may find themselves unprepared. Guidance from a financial professional can be valuable in times like these, to help families make moves now that can put them on firmer financial footing.
Where families stand today with their financial goals
When we dig deeper into the results of our poll, we can see some underlying causes of the dismal outlook and the lack of preparation. Only around half of U.S. families told us they feel like they're on track to meet their financial goals (48%). About the same number (51%) feel secure about their financial future. These feelings are reflected in families' confidence about their ability to save enough for retirement (52% feel confident) and saving enough for their children's education expenses (53% feel confident).
Retirement and education savings goals are among the top financial goals for U.S. families, with paying off debt also ranking high on the list of financial priorities. That's a good basis for many families to make any necessary changes to their financial plans. The importance of these goals is relatively consistent across different generations too, except among Generation Z (defined generally as adults between the age 18-25). For younger families, saving for retirement and paying off debt isn't as high of a financial priority as buying a home and building credit.
It makes sense that these more foundational financial goals are relevant to younger families. At younger ages, saving for the future may seem like a far-off goal when they have more pressing financial concerns. For example, half of Gen Z families in our survey cited the high cost of rent or housing as a top financial concern, the highest percentage among all age groups.
Of course, there's a tremendous benefit for younger people to start saving as early as possible. The sooner they begin to save, the more time they have to compound earnings and growth on those savings. I often remind my Gen Z daughters of a Chinese Proverb – 'The first thing to do is to start and the second is to continue'.  This quote came in handy this summer when my daughter in college had her first fellowship.  As part of her benefit package, the university offered her an opportunity to contribute to a matching 403(b) savings plan.  At first, she was reluctant, but when we calculated the long term benefit her contribution could potentially generate over her career journey she was sold; and wanted to contribute even more!
Our survey also revealed that the best time to reach these families may be before they have children.
For Gen Z families, saving for retirement may compete with other financial priorities. But this is an area where financial professionals can offer guidance that may prove to be valuable in the long run.
With younger clients, you have an opportunity to help them develop good financial habits from the start that they can maintain through their adult lives. Even if it's saving small amounts on a regular basis, that's better than saving nothing at all. Laying this groundwork can be essential in crafting a plan that balances younger families' immediate financial needs and their long-term goals.
How financial professionals can help families today
When asked if they wished they had started saving earlier in their lives, a full 85% of American families strongly or somewhat agreed. That looks like an opportunity for financial professionals to connect with families at younger ages, to help get them on a path toward saving and improving their financial outlook.
Our survey also revealed that the best time to reach these families may be before they have children.
Sixty percent of U.S. families said they had done either little or no financial planning before having children. But the arrival of kids in the household shifts this dynamic; one-third of families reported doing a lot of financial planning after having children and another 40% doing some financial planning.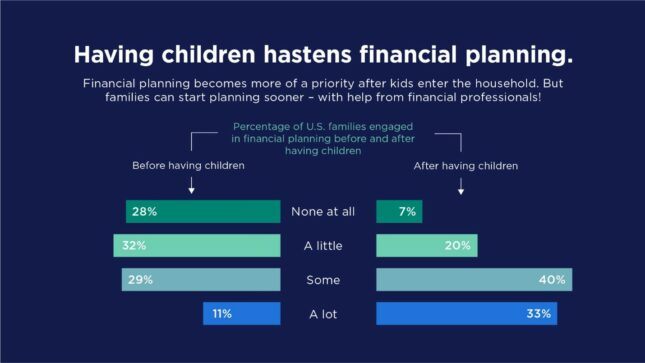 One of the most relevant ways financial professionals can help families is through financial literacy. In our poll, 31% of families said increased financial literacy would provide the most benefit with managing their finances and planning for the future. Families also cited more in the way of family-focused benefits from employers as a big boost toward financial planning. Many of these benefits may already be available for these families through their employers, but your clients may need help understanding how to use and maximize these benefits. You can step up and help your clients navigate the workplace benefits available to them. You play such an important role to your clients and it's another way you can enhance the value you bring to your client relationships.
Your resource for simplified insights
Things continue to change rapidly in the markets and the economy. It can be difficult to keep up with the flood of information, which can add to the stress and anxiety that families are already feeling.
In addition to helping your clients prepare for the future, you can also share relevant and simplified insights on changes in the economy and markets to help them feel more confident about their financial decisions.
Disclosure
Survey Methodology: The 2022 Family Finances Flash Poll was conducted online within the U.S. by Edelman Data & Intelligence (DxI) on behalf of Nationwide between July 11 and July 21, 2022 among 1,000 U.S. parents of Children Under Age 18 and 150 Gen Z Parents of Children Under Age 7.
NFM-22297AO