Markets calm ahead of a surge in earnings releases
April 25, 2023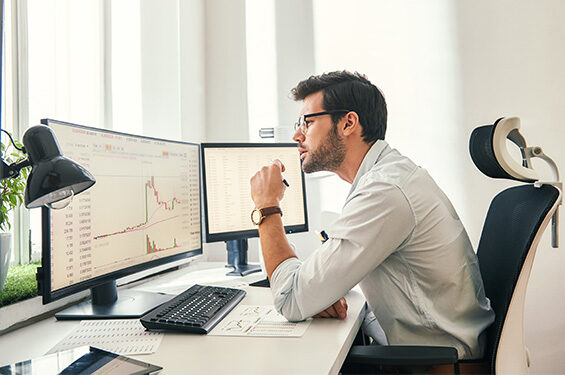 Thoughts
Investors remain confused about the forward direction of the market but are less reactive and emotional. Equity markets have entered a period of calm not experienced since August of 2021, with the VIX below 17 and the S&P 500® Index delivering weekly moves of less than 1% for three-straight weeks. The S&P 500 is fractionally higher in April, hovering near the highs of the year, though bears continue to point to macro uncertainty and earnings risk. A gain in April would be the fifth gain in seven months, with a total return of 15%.
Despite a strong year-to-date return for markets, institutional investors remain stubbornly pessimistic and underweight equities. Hedge funds are the most short S&P 500 futures since October 2011 and 10-year Treasury futures in history. According to the BofA Global Fund Manager Survey, bond allocations are the most overweight, and equity allocations are the most underweight since March 2009. Sentiment turned lower in April to the lowest level this year, hovering near the lowest level in the 20+ year history of the survey. Cash levels were steady at 5.5%, well above the long-term average of 4.7%. A CNBC survey showed that 69% of the public have negative views on the economy, and only 24% (record low in the 17-year history of the survey) say now is a good time to purchase stocks.
Even with high levels of pessimism, this market environment feels different from any one we've seen since the pandemic. Despite an unrelenting news cycle – including a banking industry "collapse," an uncertain earnings season, questions about whether the Fed will continue to raise interest rates, and fears of a debt ceiling showdown – the market isn't moving. We view that as good news.
What to Watch
Investors are bracing for tech earnings this week, with all eyes on Microsoft, Amazon, Meta and Alphabet. We've seen a rally from these companies this year, but their earnings reports will show if these strong gains will continue in the current economic environment. There's a lot of optimism priced into their shares, so we may be surprised by the results.
Earnings will be the primary market driver this week, with 40% of the S&P 500 companies reporting. Economic data include new home sales and consumer confidence on Tuesday, durable goods on Wednesday, first-quarter GDP and pending home sales on Thursday, and the PCE deflator on Friday.
Sources/Disclaimer
This material is not a recommendation to buy or sell a financial product or to adopt an investment strategy. Investors should discuss their specific situation with their financial professional.

S&P 500® Index: An unmanaged, market capitalization-weighted index of 500 stocks of leading large-cap U.S. companies in leading industries; gives a broad look at the U.S. equities market and those companies' stock price performance.

S&P Indexes are trademarks of Standard & Poor's and have been licensed for use by Nationwide Fund Advisors LLC.  The Products are not sponsored, endorsed, sold or promoted by Standard & Poor's and Standard & Poor's does not make any representation regarding the advisability of investing in the Product.

Nationwide Funds distributed by Nationwide Fund Distributors LLC (NFD), member FINRA, Columbus, Ohio. NFD is not affiliated with any subadviser contracted by Nationwide Fund Advisors, with the exception of Nationwide Asset Management, LLC.  Nationwide Investment Services Corporation, member FINRA, Columbus, Ohio.

Nationwide, the Nationwide N and Eagle, and Nationwide is on your side are service marks of Nationwide Mutual Insurance Company. © 2023 Nationwide
MFN-0829AO