Jobless claims are plummeting
May 28, 2021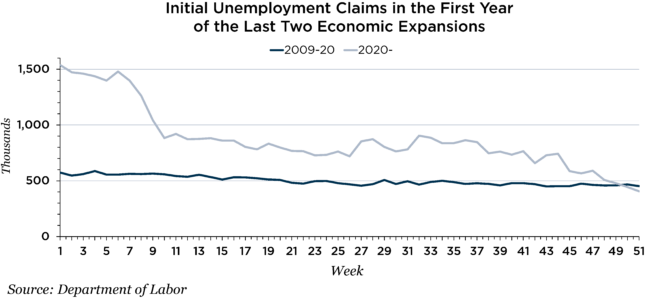 New claims for unemployment insurance continued to fall sharply last week, moving lower by 38,000 to 406,000. This is the sixth decline in the last seven weeks and it leaves the series on track for its most rapid annual drop on record. Roughly one year into this cycle, initial claims are now also remarkably below their level from this same point in the 2009-20 expansion despite having peaked at more than nine times higher in the preceding recession.
These numbers are, of course, being skewed by the effects of reopening and are highly unlikely to maintain this pace of improvement as the economy continues to normalize. That said, the recent trend still represents substantial tangible progress and strongly suggests that the economy is well set up for solid and sustainable growth from here given the labor market's role at the heart of the business cycle's feedback loops. There have been some ripples in the data flow of late, especially in the housing market indicators, but the robust jobs market means that the risks more broadly are still decidedly to the upside.
Daily Trivia
Whose ill-fated run as the president of Cuba's central bank began when he misheard Fidel Castro's request for "a good economist" as one for "a good communist"?
Previous Question
What was illustrated for the first time in a 1958 paper examining wages and unemployment in Great Britain?
Answer:
The Phillips Curve
Disclaimers
This information is general in nature and is not intended to be tax, legal, accounting or other professional advice. The information provided is based on current laws, which are subject to change at any time, and has not been endorsed by any government agency.

Neither Nationwide nor its representatives give legal or tax advice. Please have your clients consult with their attorney or tax advisor for answers to their specific tax questions.
NFM-18677AO.1