Another stunning retail sales report
April 16, 2021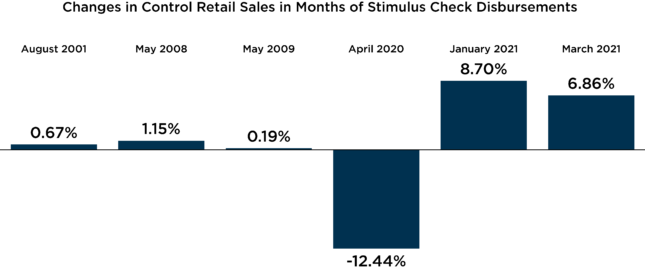 Source: Census Bureau
It was a banner day for economic data, with jobless claims plunging by nearly 200,000 to a new cycle-low, industrial production bouncing back by 1.4 percent, the Philadelphia Fed index hitting its highest level in 48 years, and home builder sentiment holding close to the record reached late last year. The highlight, however, was the 6.9 percent jump in control retail sales in March, the second outsized increase in the last three months.
Sales were robust across the board last month, as would be expected given the headline, and were led by a mix of pandemic (sporting goods and electronics) and post-pandemic (clothing, bars and restaurants) categories. Health care was the weakest of the control components and still turned in its second biggest increase in the history of the series.
It is tempting to ascribe these numbers to the stimulus checks that went out last month and it is admittedly not a coincidence that sales boomed in January and March – when the last two rounds of checks were distributed – and softened in the interim. Still, it is worth noting that previous stimulus disbursements did not elicit nearly the same response as those thus far in 2021 (it is true that the checks that have gone out this year have been at the upper end of the historical range, but the corresponding retail sales increases have been much more than commensurate; consider, for example, that the distributions in January were largely in line with those in the spring of 2008, when sequential control sales growth peaked at 1.2 percent).
Nor can these gains be attributed entirely to catch-up from last year's recession. Control sales eclipsed their pre-COVID level by June of last year and some of the biggest gains in March came in the categories that had already advanced solidly in this recovery. Sales at sporting goods retailers, for example, were already up by 16.5 percent from their February 2020 level before tacking on another 23.5 percent last month.
To a large degree, then, this surge in retail activity is being driven by sustainable factors: rapid vaccine distribution, economic reopening, a swiftly improving labor market, and massive money creation. Further gains of this magnitude are not to be expected, of course – control sales rose more last month than in any calendar year in more than two decades – but the fundamentals strongly suggest that, in tone, at least, this is far from a one-off. The positive feedback loops that have propelled every expansion in U.S. history are already kicking in strongly in this one.
Daily Trivia
What is depicted on the only napkin on display at the National Museum of American History?
Previous Question
What service came to an end after nearly 170 years of usage when India shut down the world's last remaining operation in 2013?
Answer:
Telegrams
Disclaimers
This information is general in nature and is not intended to be tax, legal, accounting or other professional advice. The information provided is based on current laws, which are subject to change at any time, and has not been endorsed by any government agency.

Neither Nationwide nor its representatives give legal or tax advice. Please have your clients consult with their attorney or tax advisor for answers to their specific tax questions.
NFM-18677AO.1