Wage growth to soften
April 20, 2021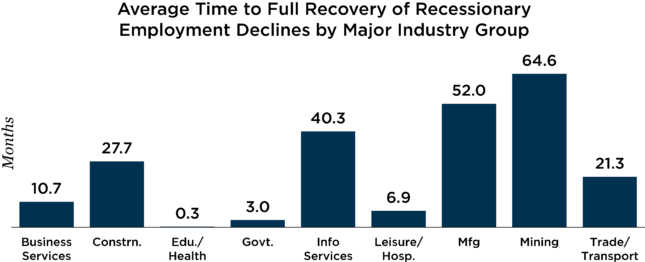 Source: Bureau of Labor Statistics
The White House released a study over the weekend showing that average hourly earnings growth could turn negative on a year-over-year basis this month and remain weak through the remainder of 2021. This shouldn't be controversial – wage growth soared last year due to compositional effects (job losses were disproportionately large in lower wage categories) that are now reversing – and the administration's analysis is likely even understating the potential downside here, as it assumes that the economic recovery will be evenly distributed over the remainder of the year. Even in normal times, however, leisure and hospitality jobs, which currently sport average wages more than 40 percent below the private sector norm, tend to bounce back much more rapidly than those in higher-pay sectors such as information services, mining, and construction. Leisure jobs are not as readily destroyed through technological advancement as those in other industries on balance and therefore tend to retrace their recessionary declines in relative lockstep with the rebound in the economy more broadly. It is in part for this reason that the growth rate in average hourly earnings tends to decelerate in the early portions of expansions before perking up again in the middle to latter stages. This effect should be significantly amplified in this cycle given the lifting of business restrictions and what is shaping up to be a rather swift return to normal. Like so much in this COVID-skewed economy, reported wage growth is going to look dramatically different in the months ahead than it did in 2020.
Daily Trivia
Which two countries – whose film industries have rhyming nicknames – rank first and second globally in movie production?
Previous Question
What is depicted on the only napkin on display at the National Museum of American History?
Answer:
Laffer curve
Disclaimers
The information provided is based on current laws, which are subject to change at any time, and has not been endorsed by any government agency.

Neither Nationwide nor its representatives give legal or tax advice. Please have your clients consult with their attorney or tax advisor for answers to their specific tax questions.
NFM-18677AO.1