As economic pressures mount, investors are re-evaluating their financial priorities
May 16, 2023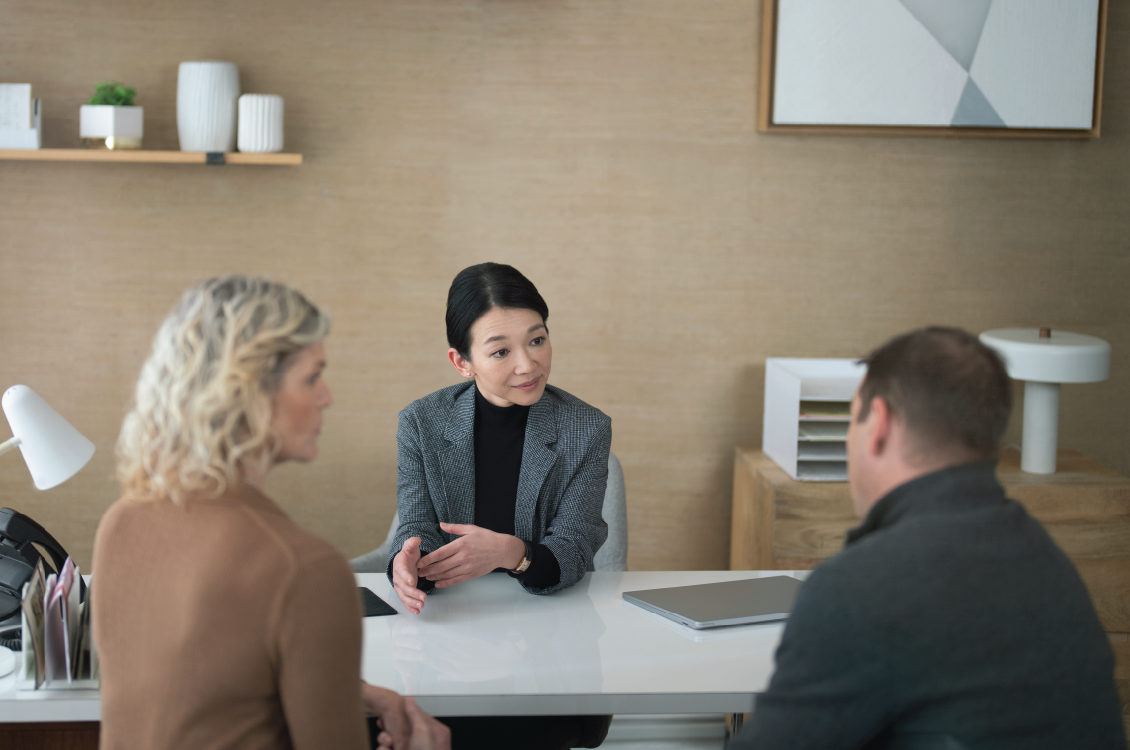 With more than two-thirds of investors expecting a recession in the next six months, many are adjusting their finances accordingly. A recent Nationwide Retirement Institute® survey revealed investors' top financial goals, priorities, and concerns ahead of a potential recession
Kathy Bostjancic, Chief Economist, and Kristi Martin Rodriguez, Senior Vice President of Nationwide Retirement Institute, provided their insights on recent investor sentiment, recession expectations, and the ever-important role of the financial professional in helping clients feel confident about achieving their financial goals, particularly when it comes to retirement.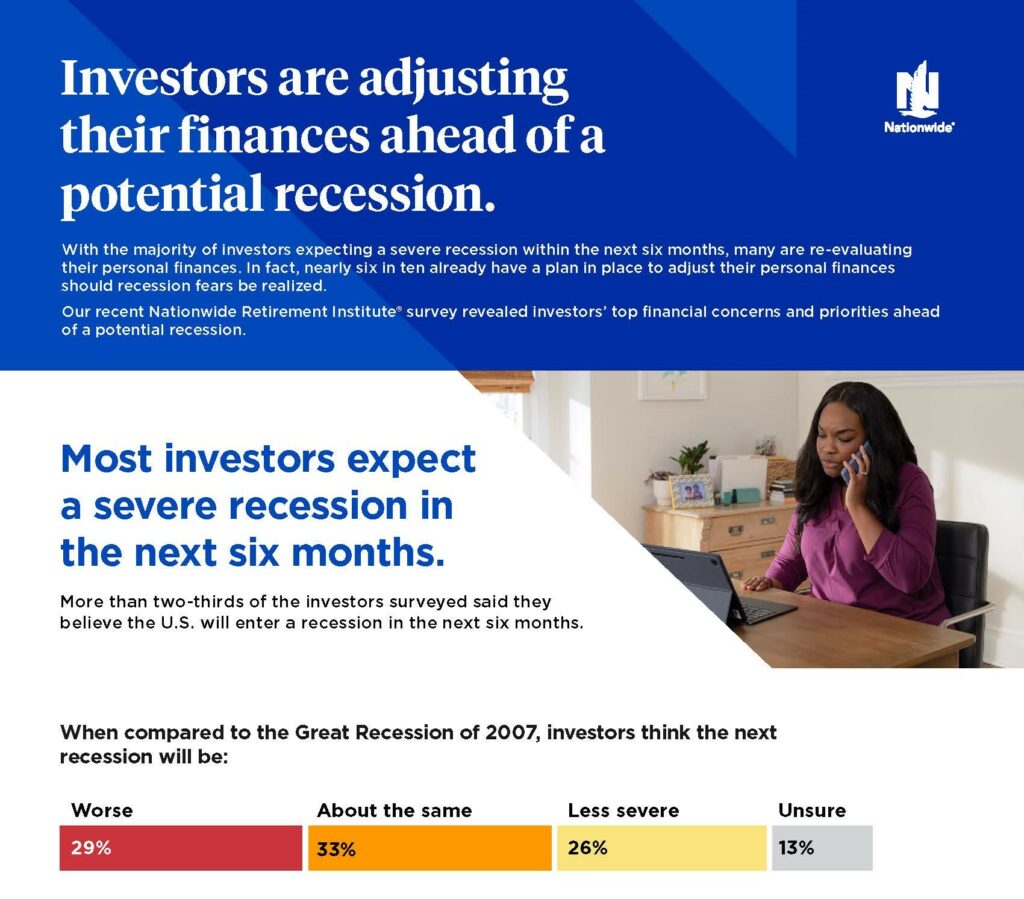 Our survey revealed that 78% of investors believe the next recession will be moderately or very severe. What are your thoughts on the potential of an upcoming recession and the severity should it happens?
Kathy Bostjancic: Given the severity of the last two recessions (the Great Recession in 2007-08 and the COVID recession in 2020), it's likely not surprising that many investors think the next downturn could be just as severe. However, most recessions in the U.S. have been mild to moderate. With most balance sheets for consumers and businesses in a solid state, Nationwide Economics is anticipating a moderate downturn later this year.
As our team looks ahead, we are expecting two or three quarters of negative real GDP growth with a rise in the unemployment rate, consistent with a moderate recession but not nearly as severe as the previous two downturns. We don't foresee a housing market collapse or a financial crisis, both of which occurred around the Great Recession. Ultimately, we view the likelihood of a potential recession being worse than the Great Recession as quite low.
21% of those surveyed identified unemployment or job loss as one of their top financial concerns. What are your thoughts on unemployment over the next year? Is this something people should be worried about, and if so, do you think it will be specific to certain industries?
KB: With a recession likely in the coming year, Nationwide Economics expects the unemployment rate to rise as businesses cut costs in response to reduced sales and recessionary impacts. At 3.4%, the current unemployment rate is very low. We project that rising job losses later this year and into 2024 will push the unemployment rate up to around 5.5% by mid-2024.
For most households and individuals, a spell of unemployment would be understandably painful.  Fortunately, unemployment around 5.5% would be much lower than what we saw over the previous two recessions when unemployment rates hit double digits. From a sector standpoint, industries tied to discretionary spending – travel, restaurants, and retail – typically bear the brunt of job losses. Manufacturing and construction employment also tends to be sensitive to reduced demand for goods and housing around recessions.
44% of those surveyed said paying off debt is their top financial goal, while 59% identified inflation as their top concern. What's your view on inflation, debt, and rising rates?
KB: Inflation remains a key factor in our broader economic outlook. Despite falling from recent peaks, inflation is still highly elevated and is projected to remain sticky into 2024, further squeezing household budgets. With the Fed intent on slowing the pace of inflation, our latest projections showing no easing of interest rates until 2024. If this forecast plays out, an extended period of higher loan rates for consumers and businesses could delay the recovery from the likely recession later this year. We don't expect inflation to return to the Fed's 2.0-2.5% target range until late 2024 at the earliest.
At the moment, household debt in the U.S. is not concerning thanks to the low interest rates and fast income growth seen over the past few years. The financial obligations ratio sits just below pre-COVID levels, indicating that most consumer balance sheets are in good shape. However, higher interest rates and an expected recession are likely to worsen the consumer balance sheets over the next year. Recent data show that more households are using credit cards to pay for everyday expenses in response to the sharp rise in prices – a worrisome sign for the future.
59% of investors mentioned inflation as one of their top financial concerns. What else are you seeing that is weighing on investors, and how is this impacting their ability to save for retirement?
Kristi Martin Rodriguez: Aside from inflation, most consumers' top concerns are related to everyday expenses, with the cost of housing or rent, a lack of savings for unexpected expenses, managing debt, and healthcare expenses all ranking in the top five. For many, these rising everyday expenses and the inability to focus on long-term goals have led to emotional changes in financial behaviors. People are eating out less often, driving less, delaying major purchases, and taking other money-saving actions. Kathy mentioned increased credit card usage for everyday expenses. We see that in our survey, in which more than one-fifth of those surveyed reported they had done so over the last twelve months.
To add implications for consumers' financial futures, many are concerned about their retirement plans. More than half of those surveyed said they are worried about their ability to save for retirement as well as their retirement accounts losing value in the event of a recession. Others worry that they will no longer be able to retire when they'd like, leading to many of the adjustments mentioned above. However, these adjustments could have negative impacts on their long-term financial picture, presenting an opportunity for financial professionals to offer guidance and support to help clients stay on track and prioritize their retirement goals.
With so much on clients' minds, how can financial professionals help them meet their goals and foster a trusting relationship?
KMR: While it's not surprising that people are feeling anxious, it's important to understand and empathize with the emotions that your clients are feeling right now. Understanding and acknowledging these emotions is a great first step in helping clients regain focus on their long-term plans, giving you the chance to build deeper, trusting relationships. During economic uncertainty, investors are often tempted to retreat or surrender amid a negative financial news cycle, but this can be an opportunity to discourage emotional decision-making. It's important to know where clients are getting information to determine what factors are influencing their mindset and ultimately keep them engaged with what's important in the long run.
Whether or not the U.S. enters a recession over the next six months, you're in a great position to help clients manage their everyday expenses and realize their top financial goals. By leading with empathy, you can set the stage for more collaborative and productive conversations with your clients, helping to make their financial goals a reality.
Sources/Disclosure
Survey methodology: Nationwide partnered with Edelman Data & Intelligence to conduct a 15-minute online survey among a sample of 2,000 nationally representative adult consumers between March 30 and April 13, 2023. As a member in good standing with The Insights Association as well as ESOMAR Edelman Data and Intelligence conducts all research in accordance with local, national, and international laws as well as in line with all Market Research Standards and Guidelines.

The information in this report is provided by Nationwide Economics and is general in nature and not intended as investment or economic advice, or a recommendation to buy or sell any security or adopt any investment strategy. Additionally, it does not take into account any specific investment objectives, tax and financial condition or particular needs of any specific person.

The economic and market forecasts reflect our opinion as of the date of this report and are subject to change without notice. These forecasts show a broad range of possible outcomes. Because they are subject to high levels of uncertainty, they will not reflect actual performance. We obtained certain information from sources deemed reliable, but we do not guarantee its accuracy, completeness or fairness.

Nationwide, Nationwide is on your side and the Nationwide N and Eagle are service marks of Nationwide Mutual Insurance Company. © 2023 Nationwide
NFM-22976AO