Can the Fed slow inflation without a recession?
May 17, 2022
Here's a preview of the Monthly Review for May 2022:
Economic growth was negative in the first quarter, but there appears to be less cause for alarm than the headline number suggests, with consumer and business investment spending solid. Rising mortgage rates and prices have begun to hurt home sales, but excess demand remains, and job growth is still strong thanks to record-high labor demand. Although the possibility of inflation persisting at a high level poses a threat, above-trend growth is still expected for the remainder of the year.
Economic Review
Don't be misled by negative first quarter economic growth – core spending and the job market are solid (pg 4)
Financial Markets
Another bad month for both equities and fixed-income (pg 5)
The Outlook
Is the stock market flagging a recession? (pg 6)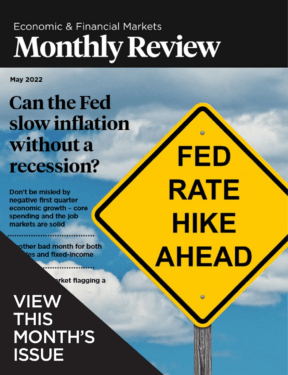 NFM-11356AO.3