Consumer slowdown comes into better focus
November 14, 2023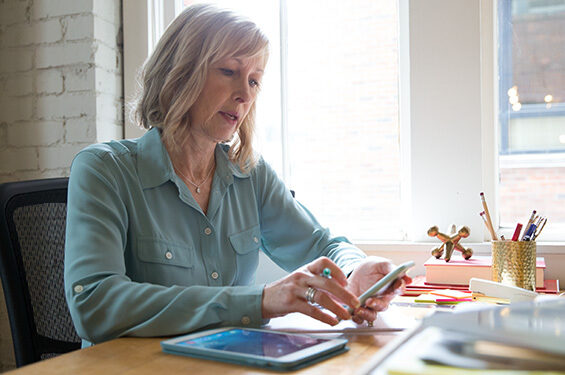 Highlights from the Monthly Review for November 2023:
The resilient economic readings in September indicated a strong hand-off of activity heading into the fourth quarter, but the momentum for consumers and businesses is fading as the end of the year approaches. Financial conditions have tightened appreciably in recent months while cost pressures are building for many households — sapping much of the spending power generated by still solid hiring and income trends.
Key Takeaways:
Economic Review: Job growth slows; consumer activity should follow
Hiring decelerated to a four-month low in October and large downward revisions to prior months suggest labor demand has weakened more than the initially reported blowout figure for September signaled. Solid job and income gains as well as households tapping into savings fueled a strong third quarter for consumers. However, spending is expected to cool sharply in the fourth quarter, led by signs of reduced need for workers. (pg. 2)
Financial Markets: Higher rates pressure equity markets
The S&P 500 lost further ground in October as interest rates hit fresh multi-year highs and the Fed affirmed its commitment to keeping policy restrictive for longer than usual. Fed officials are unlikely to ease anytime soon since they aren't fully convinced that inflation pressures have been sufficiently contained. We continue to expect that expensive borrowing costs and a persistent tightening of lending standards will spur a mild recession in 2024. (pg. 3)
The Outlook: Tighter financial conditions may mean no more rate hikes
Financial conditions in the U.S. have tightened sharply since August with the 10-year Treasury rate hitting 5.0 percent for the first time since 2007, the dollar strengthening, and banks pursuing more restrictive credit standards. This is likely to do some of the work for the Fed by reducing consumer borrowing and business investment over the fourth quarter and into 2024 — even with policy rates on hold at the last two FOMC meetings.
The overall financial tightening is a sign that previous rate moves by the Fed are more fully taking hold and that the higher-for-longer message has been priced into the market. As long as incoming labor demand and inflation data cools further, we expect Fed tightening to be at its apex with no additional rate hikes over this cycle. Importantly, this does not mean that rate cuts should be expected anytime soon as an extended period of restrictive monetary policy is likely needed to put inflation on a path to the Fed's 2.0 percent target. (pg. 4)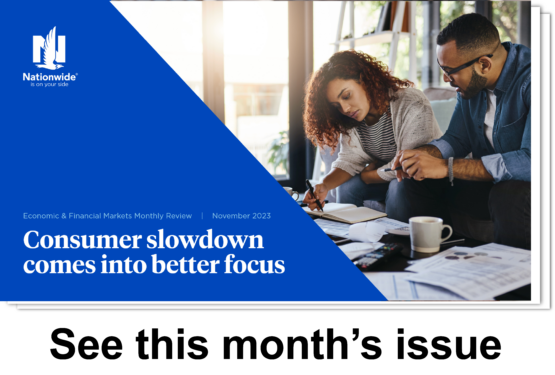 Disclosure Statement
The information in this report is provided by Nationwide Economics and is general in nature and not intended as investment or economic advice, or a recommendation to buy or sell any security or adopt any investment strategy. Additionally, it does not take into account the specific investment objectives, tax and financial condition or particular needs of any specific person.

The economic and market forecasts reflect our opinion as of the date of this report and are subject to change without notice. These forecasts show a broad range of possible outcomes. Because they are subject to high levels of uncertainty, they may not reflect actual performance. We obtained certain information from sources deemed reliable, but we do not guarantee its accuracy, completeness or fairness. Nationwide, the Nationwide N and Eagle and Nationwide is on your side are service marks of Nationwide Mutual Insurance Company. ©2023 Nationwide
NFW-11325AO