Continued momentum for the labor market
October 10, 2022
September saw further solid job gains with the unemployment rate returning to its lowest level in over 50 years. Additionally, the ISM surveys showed further modest expansion, but the manufacturing survey dropped to its lowest level since June 2020 and is trending towards contraction territory.
Key Takeaways:
Please Include 2-4 bullet points at around 350-360 characters total that summarizes what the blog article is about and what the reader can expect.
What we learned last week: (pg. 1)
Nonfarm payroll growth in September was above median growth of the last 10 years, but, nonetheless, continued the downward trend this year.
The ISM manufacturing index fell to its lowest level in over two years and was just above the expansion/contraction line in September.
What we're watching this week: (pg. 2)
Producer costs are expected to fall for the third consecutive month in September as supply conditions continue to heal. Manufacturers are benefiting from stable raw material prices, allowing them to take a break from higher prices. Still, non-energy costs refuse to go down. The annual change in the PPI remains in the high single-digits, keeping businesses from using lower prices to gain market share.
Consumer prices are forecasted to show another more modest increase in September. For the third quarter, prices are expected to have risen less than one percent, a stark contrast to the almost two-and-a-half percent gain in each of the previous three quarters. However, the better news is offset by the rapid increase in year-over-year housing costs, a portion of inflation that tends to be stickier in nature.
Spending at retailers likely rose again in September but, as has been the case in recent months, much of the increase will be driven by higher prices. Still, third-quarter retail sales are expected to outpace the previous quarter. The auto market remains constrained by limited new car production. New vehicle sales are 80 percent of normal, lifting the used car market and holding back purchases on big-ticket new cars, which would have raised consumption further.
View our informative commentary on the economy and financial markets – and find out what we're watching for the week ahead: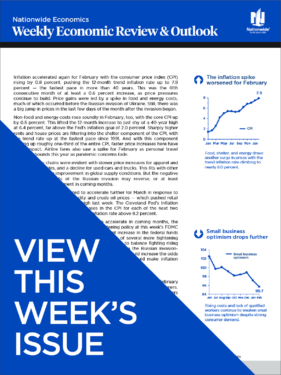 NFM-9898AO.7