Expectations point to further declines in home sales ahead
October 24, 2022
Last week's economic data featured further contraction of the housing market as existing home sales and housing starts slowed again in September. Also, the index of leading economic indicators gave a stronger recession signal, but gains in industrial production suggest a downturn is still not imminent.
Key Takeaways:
What we learned last week: (pg. 1)
Home builder expectations for home sales over the next six months has fallen to their lowest level since 2012.
The 12-month change in the LEI has fallen sharply this year and is now well below zero.
What we're watching this week: (pg. 2)
Nervous buyers have become choosier with mortgage rates up sharply, and home prices are expected to fall for the second consecutive month in August. West Coast cities should lead the retreat, where San Francisco and Seattle should add to their more than three percent drop last month. Still, given the sharp rise in prices over the first half of the year, year-over-over price appreciation should be more than 15 percent.
Improved export demand and an inventory build up should lift third-quarter real GDP at around a 2.0 percent annualized pace. The gain should offset much of the two previous quarters' modest declines. Moreover, consumer spending should grow (albeit at a slower pace), showing confidence in the economy. Still, price increases are expected to remain high and continue to drag on activity as households struggle with rising costs.
Prices for core personal consumption expenditures (excluding food and energy) are expected to increase moderately in September. Housing costs continue to rise as mortgage rates reset higher and house inventory remains low. More ambulatory procedures have led to a sharp increase in medical care inflation and are forecasted to stay above the two percent annual rate, a level not seen in the 2010s. The uptick in this important component is another factor delaying inflation's retreat.
View our informative commentary on the economy and financial markets – and find out what we're watching for the week ahead: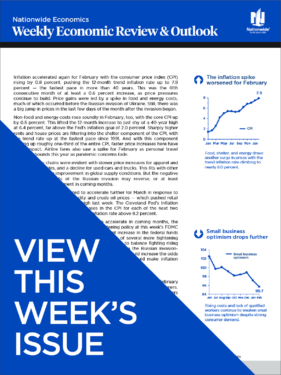 NFM-9898AO.7