Temporary jobs return, but what about permanent?
August 12, 2020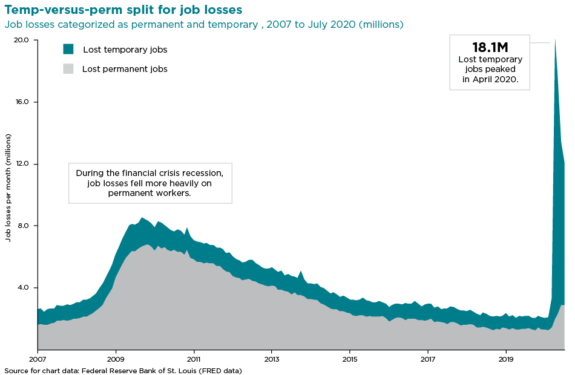 Equity investors were mildly encouraged by July's employment report, which showed a better-than-expected increase of 1.8 million jobs for the month. Since the staggering loss of 20.5 million jobs in April, over 9 million jobs have returned, bringing the unemployment rate down to 10.2%.
The headline numbers show a steady path towards normalcy, though a deeper look at the data tells an interesting story. When job losses are split between temporary and permanent, the "shock" nature of the recent spike is clear. In April, an incredible 90% of the job losses were viewed as temporary, largely from service industries that were forced to close due to the COVID-19 pandemic. As a comparison, in the peak of unemployment during the financial crisis, 78% of the job losses was permanent while 22% was temporary.
The temporary nature of the recent job losses is resulting in a strong rebound, as many are being brought back as the economy reopens. This was accelerated by incentives built into the Paycheck Protection Program (PPP) and could be further driven by the expiration of the enhanced unemployment benefit at the end of July. It will be key for the recovery that these temporary job losses not become permanent losses. In July, nearly all the payroll growth came from the temporary category, with permanent virtually unchanged. As the reality of the challenges facing companies begins to emerge, more companies may announce permanent job cuts, which could limit the recovery and disappoint investors.
Review relevant client material from Nationwide
Disclaimers
This material is not a recommendation to buy, sell, hold or roll over any asset, adopt an investment strategy, retain a specific investment manager or use a particular account type. It does not take into account the specific investment objectives, tax and financial condition or particular needs of any specific person. Investors should discuss their specific situation with their financial professional.

Except where otherwise indicated, the views and opinions expressed are those of Nationwide as of the date noted, are subject to change at any time and may not come to pass.

Past performance does not guarantee future results. Current performance may be lower or higher than the past performance shown.

Nationwide Funds are distributed by Nationwide Fund Distributors LLC (NFD), member FINRA, Columbus, Ohio.

Nationwide Investment Services Corporation (NISC), member FINRA, Columbus, Ohio.

Nationwide, the Nationwide N and Eagle and Nationwide is on your side are service marks of Nationwide Mutual Insurance Company.

© 2020 Nationwide
NFN-1065AO