Long-term care misperceptions present planning and practice growth opportunities
November 16, 2021
Among the repercussions of the COVID-19 pandemic is greater awareness among many Americans of the impact that health care choices can have on their finances. Planning ahead for future health care costs, including the possibility of needing long-term care (LTC), can help people manage the uncertainty and unpredictability of their health care outcomes.
The ninth annual Long-Term Care survey by the Nationwide Retirement Institute found growing awareness of the importance of long-term care as a result of the COVID-19 pandemic. 88% of adults in our survey said they somewhat or strongly agree that it's more important than ever to have a plan for LTC. A similar percentage (86%) said they somewhat or strongly agree that it's important for people to have LTC insurance.
See more insights from our LTC survey here.
The rising interest in LTC planning creates opportunities for financial professionals to start LTC conversations with clients. But before you dive into the details, you should first consider taking a step back to discover how much clients understand about what long-term care really is and how LTC coverage works.
Our survey uncovered widespread misperceptions about LTC across all age groups. These misperceptions offer openings to financial professionals to help clients plan ahead for potential long-term care needs and strengthen existing relationships with clients.
Do you really have LTC coverage?
Surprisingly, one in four adults in our survey said they already own long-term care insurance for themselves. Even more astonishing, one-third of Millennial respondents said they currently have LTC insurance. That number isn't consistent with the general understanding of the long-term care insurance market; according to LIMRA, just 15% of U.S. adults own LTC insurance. And it's mostly people in older generations who actually have LTC coverage through an insurance policy.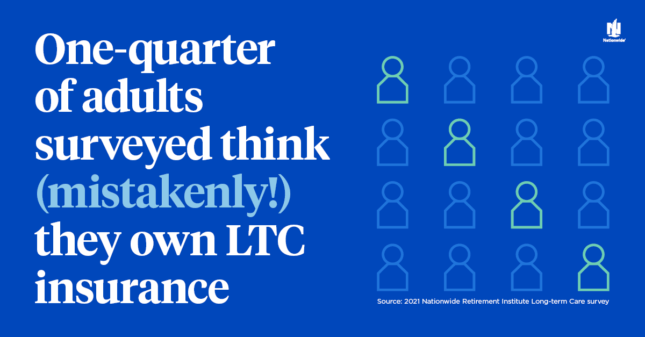 This survey finding points to what may become a costly misperception among clients—and one that advisors and financial professionals can help fix. Many of those who say (wrongly) that they own LTC insurance report purchasing coverage at work. This is most likely not the case.
What's probably happening is that people are confusing long-term care insurance with long-term disability insurance, which offers different coverage all together. Some basic education about both types of insurance, highlighting differences in what's covered and when it's covered, would help clients better understand the importance of LTC planning.
Do you know what LTC really costs?
Our survey found that when asked to estimate the costs of specific long-term care services, most people get it wrong by a lot. Younger people including Millennials and Gen Xers tend to undershoot their LTC cost estimates, while the Boomer+ generation miss on the high side. At least many Boomers are over-preparing, if only because they're more familiar with the rising cost of health care that comes with getting older.
Let's look at an example from our survey results. The annual median cost for home health care in the U.S. was almost $55,000 in 2020. But the median estimate in our survey was around $33,000. Millennials and Gen Xers missed the estimate by more than half ($17,800 and $25,000 respectively.) Boomers+ were closer but over with a median estimate of $60,000.
What's more interesting from our survey results is that the majority of all adults—more than six in 10 from our study—aren't sure about their estimates of the cost of different LTC services. Across the board, people report significant uncertainty about the real costs not only for in-home care but also nursing home, assisted living and adult day care services. And uncertainty is highest among the Boomer+ generation.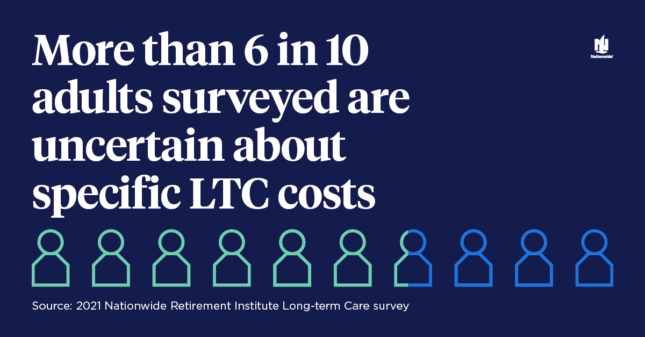 All clients can benefit from a clearer picture of the likely costs for long-term care. It's important to note that LTC varies widely by location. Showing clients national averages is a good place to start, but a view of LTC costs at the local level would be more helpful.
When do I really need LTC insurance?
Not only are many people uncertain about the cost of long-term care services, 63% of adults surveyed said they're also unsure about when to purchase LTC coverage. For Boomers+, as many as three-quarters of those surveyed expressed uncertainty about purchasing LTC coverage.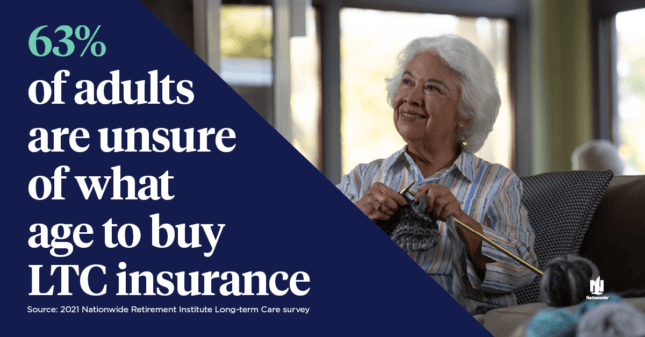 The real answer to this question, however, will be personal based on each person's needs. Our study found that the mean age at which people purchase LTC insurance is 55. Millennials tend to buy LTC coverage at a younger age (mean age=48) while Boomers+ purchased much later (mean age=64). Gen Xers were right in line with the overall average.
While the decision on when to buy LTC coverage is personal, there are cost benefits to initiating a policy at a younger age. For most younger people, the premium cost of LTC insurance is likely to be lower than it would be if they waited even a few years. Financial professionals can stress this point as they help their younger clients make planning decisions for long-term care.
Open the door to planning opportunities.
Americans across all generations stand to benefit from wider access to information about long-term care costs and solutions and in-depth conversations with financial planning professionals.
Only 1 in 10 adults said in our survey that they've discussed long-term care planning with a financial professional. But more people want to start that conversation; our study found that 36% of adults plan to discuss long-term care costs with a financial professional in the future, in particular among younger adults.
At Nationwide, we're ready to support you and your clients as you sit down for these discussions. Simplified resources can help you share a better understanding of LTC costs and present solutions that fit with your clients' financial plans.
Look for helpful resources on client aging and legacy planning, including long-term care, at nationwidefinancial.com/LTCresources. You can also find more insights from our latest LTC survey at nationwide.com/LTCsurvey.
Disclaimer
Methodology: The 2021 Nationwide Retirement Institute Long-term Care survey was conducted online within the United States between adults aged 24 and over by The Harris Poll on behalf of The Nationwide Retirement Institute. The survey also included adults 24+ who are or have been caregivers. Caregivers are defined as those who have ever or are now providing paid or unpaid long-term care to a friend or family member, not through an agency, business, or non-governmental organization. Those who care(d) only for a child under 18 or a child over 18 born with a disability did not qualify as a caregiver for this survey. Respondents for these surveys were selected from among those who have agreed to participate in our surveys. Because the sample is based on those who agreed to participate in the online panel, no estimates of theoretical sampling error can be calculated. Data are weighted where necessary by age by gender, race/ethnicity, region, education, income, marital status, household size, and propensity to be online to bring them in line with their actual proportions in the population.

This material is not a recommendation to buy or sell a financial product or to adopt an investment strategy. Investors should discuss their specific situation with their financial professional.

The information provided is based on current laws, which are subject to change at any time, and has not been endorsed by any government agency.

Neither Nationwide nor its representatives give legal or tax advice. Please have your clients consult with their attorney or tax advisor for answers to their specific tax questions.

© 2021 Nationwide
NFN-1236AO