What could stop stocks' decline?
January 27, 2022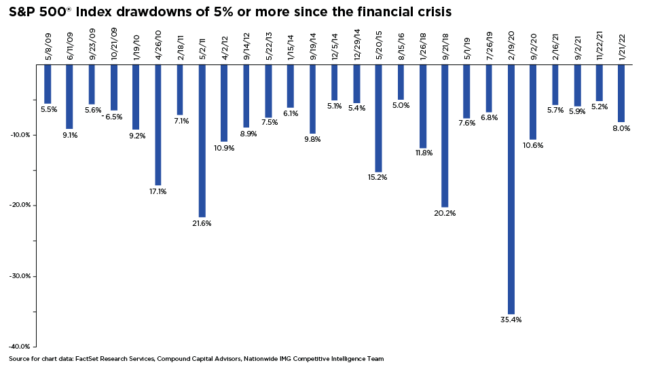 Stock markets have experienced a rough start to the year, with the S&P 500® Index losing 8% since last recording a record high on January 4. The rapid decline was initially caused by the hawkish shift by Federal Reserve officials and the resulting spike in interest rates, but has since suffered from worries around the outlook for economic and earnings growth. At this point, the decline has been relatively modest, like declines seen in February, September, and November of 2021. Since the global financial crisis of 2007-08, the S&P 500 has experienced drawdowns of 5% or more 27 times, roughly two per year. Corrections of 10% or more are rarer, with eight occurring since 2009. Those corrections were sparked by European debt crises (2011 and 2012), the downgrade of the U.S. credit rating (2011), concern about emerging markets (2015), rising rates and a slowdown in China (2018) and COVID (2020).
It's too early to determine if the current drawdown is simply noise following a strong year in 2021 and some developing uncertainty, or if the decline is more pervasive. Catalysts in the market have shifted from positive to negative, while the S&P 500 still trades at an elevated level of 20-times forward earnings. The market internals paint a more bearish story, with the average company in the S&P 500 down 15%.
Investors are waiting for a positive catalyst, which is unlikely to come from fiscal and monetary policy or from earnings in the near term. A rebound in the economy, with improving consumer demand after the peak in Omicron cases and moderating inflation, is the most likely positive catalyst, although the timing is uncertain. Stock markets will likely remain volatile until that occurs.
Review relevant client material from Nationwide
This material is not a recommendation to buy or sell a financial product or to adopt an investment strategy. Investors should discuss their specific situation with their financial professional.

Except where otherwise indicated, the views and opinions expressed are those of Nationwide as of the date noted, are subject to change at any time and may not come to pass.

S&P 500® Index: An unmanaged, market capitalization-weighted index of 500 stocks of leading large-cap U.S. companies in leading industries; gives a broad look at the U.S. equities market and those companies' stock price performance.

Nationwide Funds are distributed by Nationwide Fund Distributors LLC, member FINRA, Columbus, Ohio. Nationwide Investment Services Corporation, member FINRA, Columbus, Ohio.

Nationwide, the Nationwide N and Eagle and Nationwide is on your side are service marks of Nationwide Mutual Insurance Company. © 2022 Nationwide
NFN-1262AO