Higher-for-longer rates: Weekly Economic Review & Outlook
September 25, 2023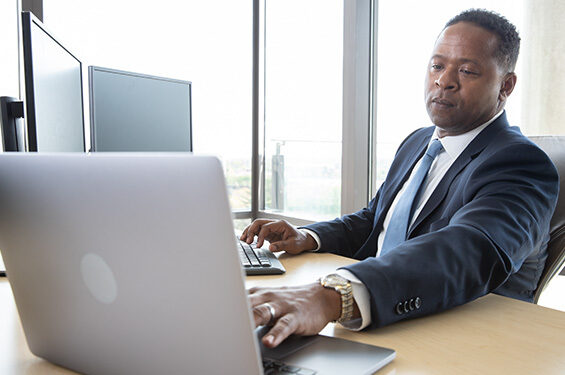 The Fed left the fed funds rate unchanged at the September meeting but showed a higher-for-longer path in their interest rate forecasts. The latest Summary of Economic Projections (SEP) painted the picture of a soft landing, with a mild dip in economic growth and modest rise in unemployment next year. In last week's housing data, existing home sales fell again to the slowest pace since January, while housing starts also dropped due to a weak month for apartment construction.
Key Takeaways:
What we learned last week: (pg. 1)
Higher-for-longer rate path projected
The Fed's revised median rate estimates call for fewer rate cuts over the next two years and does not reach the long-run neutral rate until after 2026.
Existing home sales weighed down by high rates
After August's decline, existing home sales have now fallen in five of the last six months.
What we're watching this week: (pg. 2)
September 26: New Home Sales
New home sales likely faltered due to heavy financing costs
New home sales have generally fared better than existing home sales, but we look for a decline of 3.4 percent in August. Home buyer interest even for new homes has dropped sharply due to elevated mortgage rates. Builders have reported a significant pullback in prospective buyer traffic, signaling a slowdown in potential home buyers' demand, and the outlook for future single-family home sales has dipped. Housing starts declined in August, as did mortgage applications through the final week of the month, suggesting that new home sales will likely slow to an annualized pace of 690,000.
September 27: Durable Goods Orders
Dampening demand should weaken durable goods orders
High interest rates, elevated inflation, and economic uncertainty tempers businesses and consumers spending on big-ticket items. Less than a quarter of small businesses have plans for capital outlays in the next several months, which is down three percentage points from July. The ISM manufacturing survey indicated that manufacturing new orders had fallen for the 12th consecutive month. At the headline, we expect to see a decrease of 0.5 percent, weighed down by a reduction in aircraft orders. However, excluding transportation, the decline should be a more 0.1 percent.
September 29: Personal Income & Spending
Labor market continues to fuel personal income and spending
Consumer spending has boomed over the summer fueled by strong outlays on services such as concerts, movies, travel, and dining out. The increase in retail sales in August suggests buoyant spending continued through the end of the summer, with nominal personal consumption expenditures rising 0.5 percent. However, to fund this sturdy pace of spending, consumers likely continued to dip into their pandemic-related savings and drive the personal savings rate lower. With the excess savings expected to be fully depleted by the end of this month, going forward consumer spending should be a bit less robust. That said, the strong labor market provides support and should boost personal income 0.4 percent in August.
Analysis: FOMC foresees extended restrictive policy and a soft landing
The Fed announced no change in the policy rate at the conclusion of the FOMC's two-day meeting last week. However, with inflation remaining elevated and expected to retreat slowly from here, the forward guidance from the FOMC's policy statement and its updated macro and interest rate forecasts indicates an ongoing hawkish policy stance and a higher-for-longer rate path. The Fed now projects only two rate cuts over 2024, two fewer than it did in June. Even by the end of 2026, the fed funds rate is still projected to be above its long-run neutral rate (2.5 percent).
At the same time, the SEP showed increased confidence in a soft-landing scenario, with higher real GDP growth in 2024 than in June's forecasts and the unemployment rate only climbing to just above 4.0 percent in coming years. Growth is expected to be 1.8 percent in 2025 and 2026 — in line with the Fed's forecast for long-run potential GDP growth.
The inflation forecast included a mark-to-market adjustment for 2023 with the Q4/Q4 core PCE inflation rate shaved to 3.7 percent from 3.9 percent. Officials made little change to their 2024 and 2025 inflation forecasts. Not surprisingly given the expectations of higher rates into the extended future, they still do not see inflation fully returning to its 2.0 percent target until 2026.
While Fed is still projecting a soft landing, it's difficult to see core inflation slow back to a 2.0 percent trend without the unemployment rate rising more given the outsized importance of service costs. Additionally, interest rates at the levels shown by the Fed would increasingly restrict consumer spending and business investment over the next year. These trends still point to an eventual hard landing for the economy, even if potentially delayed, rather than a more optimistic outlook. As such, there could be a more pronounced easing cycle than currently anticipated by the Fed and financial markets.
Analysis: Further weakness for existing homes
Existing home sales fell for a fifth time in six months in August to the slowest pace since January as the momentum for housing activity from earlier this year has evaporated in the face of ever-rising mortgage rates. At an annual rate of 4.04 million units, August's pace of sales was only marginally above January's cycle low. Pending home sales rose a bit in July, suggesting that a few buyers are locking in rates before for fear that they may rise even higher. But overall demand for single-family homes has cratered as the burden of a mortgage payment climbs to unsustainable levels.
Amid low housing inventory (the seasonally adjusted number of existing homes for sale was the second lowest on record in August) home construction had been fairly strong in the first half of the year as demand has shifted to the new home market. But housing starts fell for the third straight month in August as mortgage rates spiked, dropping to the lowest level since June 2020. On the plus side, much of the pull back came from the volatile multifamily sector, and there was a jump in building permits which suggests the recent slowdown could be temporary.
Sources/Disclosure
The information in this report is provided by Nationwide Economics and is general in nature and not intended as investment or economic advice, or a recommendation to buy or sell any security or adopt any investment strategy. Additionally, it does not take into account any specific investment objectives, tax and financial condition or particular needs of any specific person.

The economic and market forecasts reflect our opinion as of the date of this report and are subject to change without notice. These forecasts show a broad range of possible outcomes. Because they are subject to high levels of uncertainty, they will not reflect actual performance. We obtained certain information from sources deemed reliable, but we do not guarantee its accuracy, completeness or fairness.

Nationwide, the Nationwide N and Eagle and Nationwide is on your side are service marks of Nationwide Mutual Insurance Company. © 2023 Nationwide.
NFW-11324AO