Midyear outlook: Standing at the crossroads
JUL. 09, 2019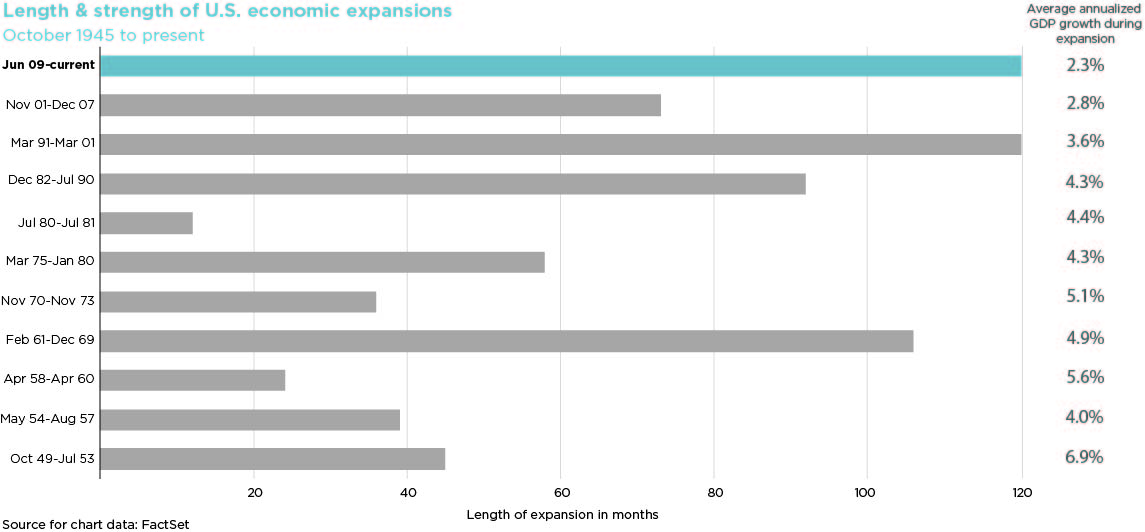 Despite slowing global growth and ongoing trade uncertainty, the U.S. economy continues to show resilience in the late stage of the current growth cycle. This expansion has now equaled the longest on record, but the pace of growth in this cycle has been the slowest in the last 70 years. That may not sound too inspiring, but slow growth could mean there's enough strength left in the expansion to run a little longer.
Plus, we're not yet seeing shifts in several indicators that typically occur at the end of growth cycles. For example, stock investors really haven't shown much "irrational exuberance" like they did at the market peaks in 2000 and 2007. If anything, they've been more risk averse lately, taking money out of equity funds in favor of safer havens like high-quality bond funds. The only indication of end-of-cycle activity we see at present is in a slight uptick in IPO and M&A activity.
Financial markets seem to be at a crossroads after recovering from last year's turbulence. There's not much negative news embedded in the stock market, as evidenced by the benchmark indexes trending toward record territory in June. The sharp deterioration in earnings we saw late in 2018 seems to have stabilized. This is an important step for positive stock returns to continue.
Stock investors have high hopes for rate relief from the Federal Reserve; at the midpoint of the year, the general consensus now gives a nearly 100% chance of a Fed rate cut before the end of 2019. Equity investors are likely to be disappointed if that doesn't happen. Similarly, if the trade war remains unresolved six months from now, they may dim their outlook for the future.
The bears have found a home in the bond market. Long-term interest rates were under pressure for much of the 2nd Quarter. As of this writing, the 10-year Treasury rate is more than one full percentage point lower than where it was last November (3.2%).
Higher-quality and lower-volatility sectors and stocks have performed well as of late, as they've assumed leadership from higher-beta and momentum sectors. We typically see a shift in performance like this in a late-stage growth cycle, so we anticipate this trend to likely continue in the second half of 2019.
We also think we may see greater volatility in stock markets later this year. Investors can find plenty of reasons to worry, from ongoing trade wars, to rising geopolitical tensions, to slowing global growth. There's also an election further out on the horizon, and the noise around it is already building.
Shifting your asset allocation based on headline events usually doesn't end well. It's important for investors to recognize the emotions these events can trigger and not to let them guide their investment decisions. They would be better served by tuning out the noise and focusing on the fundamental drivers of stock returns.
Review relevant client material from Nationwide
This material is not a recommendation to buy, sell, hold or roll over any asset, adopt an investment strategy, retain a specific investment manager or use a particular account type. It does not take into account the specific investment objectives, tax and financial condition or particular needs of any specific person. Investors should discuss their specific situation with their financial professional.

Except where otherwise indicated, the views and opinions expressed are those of Nationwide as of the date noted, are subject to change at any time and may not come to pass.

Nationwide Funds are distributed by Nationwide Fund Distributors LLC (NFD), member FINRA, Columbus, Ohio.

Nationwide Investment Services Corporation (NISC), member FINRA, Columbus, Ohio.

Nationwide, the Nationwide N and Eagle and Nationwide is on your side are service marks of Nationwide Mutual Insurance Company. © 2019 Nationwide

MFN-0282AO (07/19)
MFN-0282AO