States reopen and wait for a return to normal
MAY. 27, 2020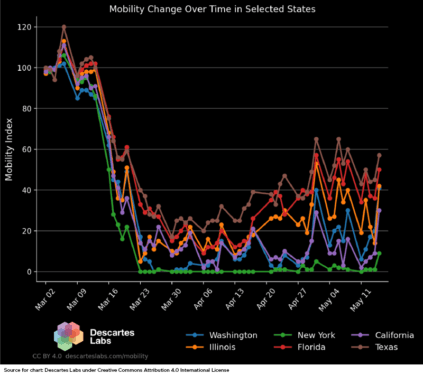 All 50 U.S. states are currently engaged in various stages of re-opening their economies, following shutdowns meant to slow the spread of the COVID-19 virus. Equity markets seem pleased with the progress, given the strong rally from the lows of March. Many states have moved to reopen even before meeting federal benchmarks of a two-week decline in the number of new cases or a drop in the percentage of positive tests. Southern states, led by Florida, Georgia and Texas, were the earliest to reopen, as the pandemic has had a lesser impact in this region relative to the more densely-packed Northeastern states.
Re-opening, however, does not equate to a return to normal. One way to get a reasonable approximation of how much daily activity is resuming is to look at state-level mobility data. The chart above tracks the maximum distance different mobile devices moved on a weekly basis, using the beginning of March as a baseline (before many pandemic-related shutdowns were put in place.)
The data show that by late March, the impact of the economic shutdowns was dramatic—an 80-100% decline in activity, particularly in the hardest-hit states. Through April and into May, activity levels began to rise as restrictions on movement and businesses were lifted. Recent readings reflect a wide difference among states; Texas, for instance, has returned to nearly 60% of pre-coronavirus activity, while New York is around 10%. The disparity in returning to normal will have significant implications for the economy and corporate profits. Loosening restrictions will not bring economic activity back, as many people will voluntarily limit their movement to avoid potential infection. This will likely make a "V-shaped" recovery quite difficult to achieve.
Review relevant client material from Nationwide
MFM-3745AO