A tale of two economies across income sectors.
January 27, 2021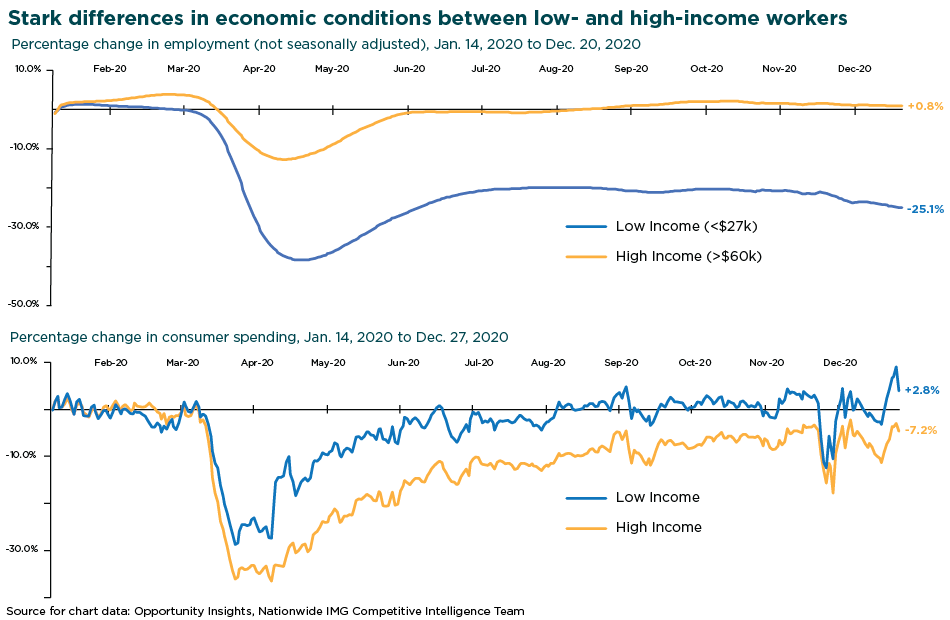 All areas of the economy have been hard hit by the coronavirus pandemic and subsequent restrictions on business activity, though the economic consequences have manifested in different ways. The service sector of the economy (e.g., restaurants, hotels, etc.,) has been devastated due to many forced closures, and the resulting impact on many lower income individuals who work in these businesses has been dramatic.
Employment levels for low-income earners (<$27k) is down 21%, while employment for high-income earners (>$60k) is slightly positive over the past year. (See top chart above.) While enhanced unemployment insurance helped through much of the pandemic, the group with the least financial flexibility is being hit the hardest.
Counterintuitively, spending trends tell a different story. Low-income consumers have increased their spending 3% over the past year, due largely to the benefit from stimulus checks and the impact from inflation. High-income consumers have seen a 7% decline in spending, driven not so much by income but by having fewer places to spend with so many opportunities to spend (travel, dining, etc.) closed. (See bottom chart above.)
With the number of positive COVID-19 cases starting to slow and increasing availability of vaccines, we should begin to emerge from this economic uncertainty. A recovery in service industries would likely improve employment trends for low-income workers, which is critically important for this group. This may also drive a recovery in spending, particularly among high-income earners, who have significantly higher discretionary income. According to the Bureau of Labor Statistics, the top 20% of earners spend roughly $24k on food, entertainment, apparel and personal care, compared with $6k for the bottom 20%.
Review relevant client material from Nationwide
Disclaimers
This material is not a recommendation to buy, sell, hold or roll over any asset, adopt an investment strategy, retain a specific investment manager or use a particular account type. It does not take into account the specific investment objectives, tax and financial condition or particular needs of any specific person. Investors should discuss their specific situation with their financial professional.

Except where otherwise indicated, the views and opinions expressed are those of Nationwide as of the date noted, are subject to change at any time and may not come to pass.

Past performance does not guarantee future results. Current performance may be lower or higher than the past performance shown.

Nationwide Funds are distributed by Nationwide Fund Distributors LLC (NFD), member FINRA, Columbus, Ohio.

Nationwide Investment Services Corporation (NISC), member FINRA, Columbus, Ohio.

Nationwide, the Nationwide N and Eagle and Nationwide is on your side are service marks of Nationwide Mutual Insurance Company.

© 2021 Nationwide

NFN-1126AO (1/2021)
NFN-1126AO