Markets cheer the end of midterm uncertainty
November 09, 2022
While investors had to contend with many headwinds on the economic front this year, uncertainty around the November 8th midterm elections added to the sense of unease. Would there be a blue or red wave? And what would it mean for the stock market? These questions can provoke emotional reactions from some investors, which can, if left unchecked, contribute to poor portfolio decisions.
Making investment decisions based on one's political beliefs or trying to time the market based on political outcomes is an ill-advised investment strategy. But now that the political uncertainty is off the table, we can start to anticipate where equity markets may go from here.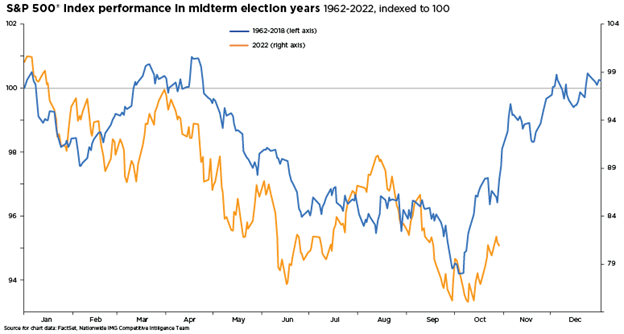 What we've seen from stocks in 2022 largely fits the historical pattern from past midterm years, with the S&P 500® Index underperforming in the months leading up to Election Day. But after the midterms, the historical record dating back to 1962 shows the S&P 500 returning 17% on average for the following 12-month period after the election. While this post-midterm trend has been favorable for investors, remember that past performance is not an indicator of future results.
The return of political gridlock in the post-midterm cycle won't offset the macroeconomic headwinds investors will continue to face, from inflation to hawkish monetary policy to ongoing supply chain issues. At this point, investors should remember that corporate earnings and underlying economic conditions – not red or blue waves at the ballot box – are the fundamental drivers of equity market returns.
Disclaimer
This material is not a recommendation to buy or sell a financial product or to adopt an investment strategy. Investors should discuss their specific situation with their financial professional.

Except where otherwise indicated, the views and opinions expressed are those of Nationwide as of the date noted, are subject to change at any time and may not come to pass.

S&P 500® Index: An unmanaged, market capitalization-weighted index of 500 stocks of leading large-cap U.S. companies in leading industries; gives a broad look at the U.S. equities market and those companies' stock price performance.

S&P Indexes are trademarks of Standard & Poor's and have been licensed for use by Nationwide Fund Advisors LLC. The Products are not sponsored, endorsed, sold or promoted by Standard & Poor's and Standard & Poor's does not make any representation regarding the advisability of investing in the Product.

Nationwide Funds are distributed by Nationwide Fund Distributors LLC, member FINRA, Columbus, Ohio. Nationwide Investment Services Corporation, member FINRA, Columbus, Ohio.

Nationwide, the Nationwide N and Eagle and Nationwide is on your side are service marks of Nationwide Mutual Insurance Company

© 2022 Nationwide
NFN-1376AO