Two-year tops 10-year: Thoughts on the yield curve inversion
AUG. 14, 2019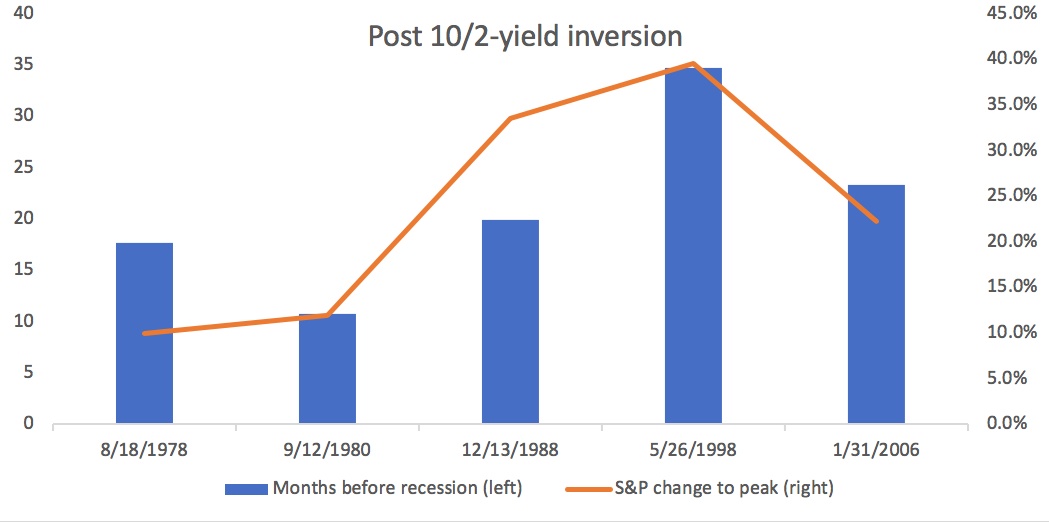 Headlines and emotion are primary drivers of market volatility, and this week is a key example. Monday saw the S&P 500® Index drop more than 1% on worries over Hong Kong protests and general concerns over China. Tuesday saw a 1.5% rebound on news that the Trump administration's decision to delay tariffs on some key goods until December. Wednesday resumed the decline on worries about an inflation after the 10-year Treasury yield fell below the 2-year.
An inverted yield curve (long rates below short rates) has been a strong recession predictor in the past, as it signals that investors are concerned about future growth. Much of the yield curve has been inverted throughout the year, but equity investors pay specific attention to the spread between the 10-year and 2-year, as it is seen as the most accurate predictor.
While an inversion of the 10/2 has been a strong harbinger of recessions in the past, it does not suggest a recession is imminent. Since 1980, the 10/2 has inverted five times. On each occasion, a recession followed, but the lag was an average of 21 months (with a range from 11 to 35 months). This has also been a relatively good time for equity market returns, with the S&P rallying an average of 23% between the inversion and the peak of the bull market.
Historically, inversions are driven by worrying economic data and/or increasing inflation, which has investors betting that growth is deteriorating. In the current environment, however, the inversion is due primarily to an insatiable desire for yield among institutional and retail investors and an unprecedented period of negative rates globally. Nearly $16 trillion of global debt currently trades with a negative yield, which makes the low domestic rates attractive by comparison.
We continue to urge investors to remain calm during periods of uncertainty. The fundamental backdrop for equities remains reasonably healthy, with strong employment, gradually improving wage growth and low inflation. If the economy remains healthy and earnings growth rebounds, equity returns should continue to be positive.
Review relevant client material from Nationwide
Disclaimers
This material is not a recommendation to buy, sell, hold or roll over any asset, adopt an investment strategy, retain a specific investment manager or use a particular account type. It does not take into account the specific investment objectives, tax and financial condition or particular needs of any specific person. Investors should discuss their specific situation with their financial professional.

Except where otherwise indicated, the views and opinions expressed are those of Nationwide as of the date noted, are subject to change at any time and may not come to pass.

Nationwide Funds are distributed by Nationwide Fund Distributors LLC (NFD), member FINRA, Columbus, Ohio.

Nationwide Investment Services Corporation (NISC), member FINRA, Columbus, Ohio.

Nationwide, the Nationwide N and Eagle and Nationwide is on your side are service marks of Nationwide Mutual Insurance Company. © 2019 Nationwide

MFN-0284AO (08/19)
MFN-0284AO