Understanding business owners' financial priorities amid economic uncertainty
June 05, 2023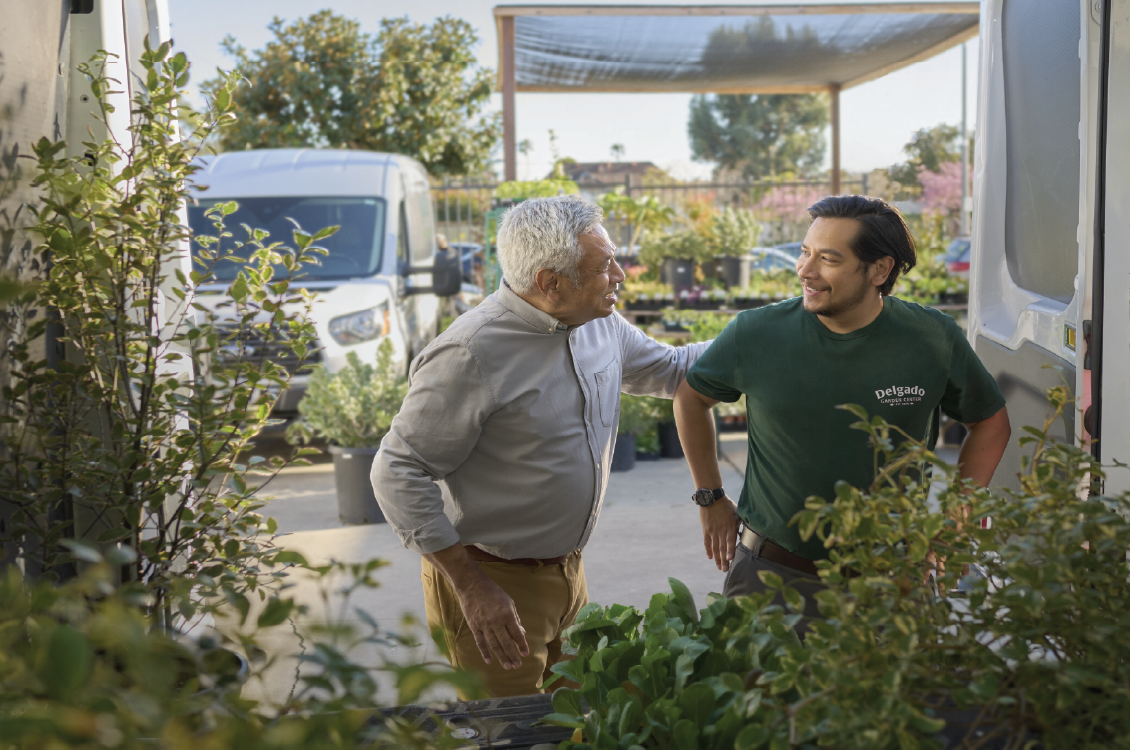 Just three years ago, business owners were reeling from the swift and significant economic impact of the pandemic. After making great strides to get their businesses back on track, a looming recession has many saying, 'here we go again!' As a financial professional, you can be a reassuring voice – and potentially aid in helping them address the impacts of economic volatility – as we brace for turmoil ahead.
For those with clients who own businesses, consider having a conversation about their current financial needs and concerns. Many are actively seeking the guidance of a financial professional. A recent survey from the Nationwide Retirement Institute® uncovered topics business owners are looking to discuss including economic pressures and business-specific challenges such as access to capital, the tight labor market, employee benefits, and supply chain disruptions.
Topics business owners would like to discuss with a financial advisor:

As a trusted resource, you can bring specific knowledge, tailored resources, and added value to your clients.  Just as you help them become confident in their personal financial future, you can also help them have confidence in the financial future of their business. Our survey findings revealed additional insights into their concerns ahead of a potential recession.
Most business owners expect a recession before year-end.
Though inflation remains the most significant perceived risk for business owners, more than two-thirds expect a recession before the end of 2023. And of those expecting a recession, the majority believe it will be as bad or worse than the Great Recession of 2007-2009.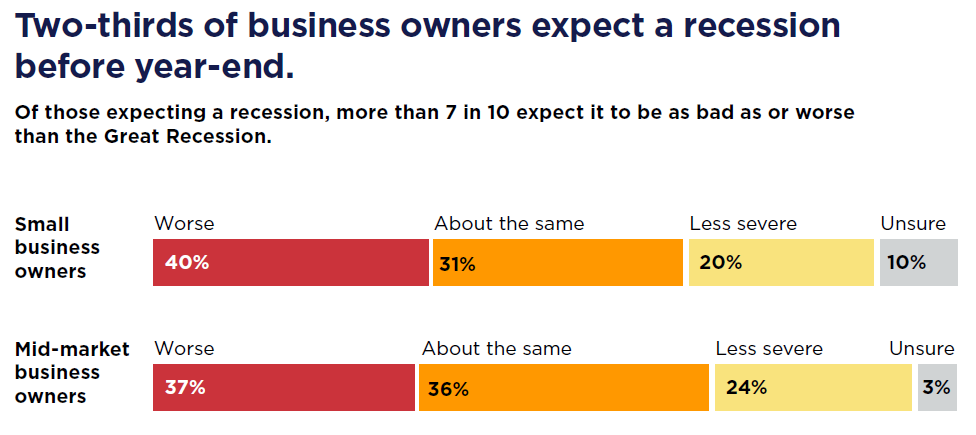 It's important to remember that most recessions in the U.S. have been mild to moderate. In fact, given the solid state of most business and consumer balance sheets, Nationwide Economics anticipates a moderate downturn later this year, with a very low likelihood of it being worse than the Great Recession.
Business owners' widespread recessionary concerns present an opportunity for financial professionals to connect with business owners to discuss their financial plans, provide relevant context for recent market volatility, and help build confidence in the financial future of their business. With millions of new businesses started every year in the U.S.,1 many business owners have not yet had to navigate a true recession, so they will be looking for professional guidance and resources.
Inflation is their biggest business challenge
Individual investors and business owners alike are worried about inflation and the implications of rising prices on their already stressed financial situations. More than three out of five small business owners and half of mid-market business owners identified inflation and rising prices as their biggest threat over the next six months, followed by rising interest rates.
Other challenges business owners identified include the overall uncertain economic environment, their ability to reach new customers, continued supply chain disruptions, taxes and government regulations, and declining customer demand.
With so many negative factors making daily financial news headlines, it is easy for business owners to become fearful and be tempted to react emotionally to try to protect their businesses. Advisors have an opportunity to help them avoid making decisions based on fear or emotion, which can have long-lasting adverse effects.
Business owners are eyeing cuts ahead of a potential recession
Ongoing economic pressures have led to changes in business owner behavior as they brace for another economic downturn, reversing some of the positive strides they made after the pandemic. Over the past six months, business owners reported they had looked for ways to reduce business expenses, used personal savings to support their businesses, postponed major business investments, and applied for new business loans. Without the guidance of a financial professional, business owners are at risk of making short-term decisions that don't align with their long-term strategies.
Your opportunity to engage and support business owner clients
Despite mounting economic pressures and increasing uncertainty, financial professionals can enhance relationships and expand their services, not only for clients who own businesses, but also for the business itself. Here are six tips to consider when engaging with clients that own a business.
Establish yourself as a risk management partner: You are in a great position to help your clients as a risk management partner and help them create a comprehensive strategy for protecting their business.
Remind business owners not to neglect their personal finances. Some business owners will want to put everything they have into their business. Make sure your discussions include their individual investment portfolios and retirement plans.
Plan for cash flow: Discuss their plan for accessing capital. Can they access it in an emergency?
Help clients prepare for brighter days. While economic uncertainty has become the norm, it is important to remind clients that this environment won't last forever. Help them understand how cuts today could impact their opportunity to capitalize on opportunities in the eventual post-recession environment.
Plan for succession: An effective business succession plan is a critical risk management tool and an area where you can demonstrate the sophisticated guidance and value your services provide.
Leverage your network: Don't limit your risk management discussions to financial services. You can help them address other types of risk by bringing in other experts like insurance agents, benefits consultants, attorneys, cyber security pros, and specialized advisors in your network. Referrals go both ways in these relationships and your clients will appreciate it when you help them connect the dots. You can also turn to financial services providers like Nationwide to access expertise or referrals to new partners to address specialized needs for your clients.
Sources/Disclosure
The information in this report is provided by Nationwide Economics and is general in nature and not intended as investment or economic advice, or a recommendation to buy or sell any security or adopt any investment strategy.  Additionally, it does not take into account any specific investment objectives, tax and financial condition or particular needs of any specific person.

Survey methodology:

Nationwide commissioned Edelman Data & Intelligence to conduct a 15-minute quantitative online survey among a national sample of 400 U.S. small business owners and 400 mid-market business owners between March 30 and April 28, 2023. As a member in good standing with The Insights Association as well as ESOMAR Edelman Data and Intelligence conducts all research in accordance with local, national and international laws as well as in line with all Market Research Standards and Guidelines.

Nationwide Investment Services Corporation (NISC), member FINRA, Columbus, Ohio. The Nationwide Retirement Institute is a division of NISC.

Nationwide, the Nationwide N and Eagle and Nationwide is on your side are service marks of Nationwide Mutual Insurance Company. © 2023 Nationwide
NFM-23010AO