Help close the wealth gap by building trust across generations of Black families
April 20, 2022
Black Americans have a history of our own to tell, and it takes more than a month to tell it. We've come a long way in this journey through the country's trials and tribulations. Still, there's progress that must be made to ensure equity and equality to all Americans.
We have a protracted problem in our country about the wealth divide, especially between Black and White households. As a financial services company and as financial professionals from different backgrounds and beliefs, we have an opportunity to take active steps in addressing the racial wealth gap problem in America. This opportunity directly impacts Black families, helping them establish financial legacies for current and future generations.
It starts with younger generations of Black adults—Gen Z and Millennials, in modern demographic terms—but builds on the knowledge and wisdom from older generations, Black Gen Xers and Baby Boomers, to start them on the path to improving their financial outlooks.
A look into the wealth gap
Many Black Americans have seen their income and savings grow in recent years. We have seen an increase in younger Black adults attending college and earning degrees, plus there's a rise in the number of Black professionals owning businesses and entering the corporate workforce. Still, the wealth gap between Black and white households persists. According to a 2019 Federal Reserve Board of Governors study, the median wealth among white families is more than $188,000, while Black families have median wealth of just $24,000, less than 15% of the median wealth of white families.1
There is a desire and a need among Black Americans not only to build wealth for themselves and their futures, but also for the benefit of younger Black generations. A majority of Black families believe it's important that younger family members aren't burdened with taking care of them as they get older.2 But the lack of wealth and wealth planning makes that goal hard to attain; only 8% of Black families receive inheritances, compared to 26% of white families.3
Financial professionals have a role to play in helping Black Americans close the wealth gap with the rest of the population and foster stronger financial legacies among younger Black generations. However, one major issue financial professionals must address to attract and win over Black clients is a lack of generalized trust.
A matter of trust
Generally speaking, Black consumers are more likely to have lower levels of trust than white consumers, 61% versus 32%.4 The gap is somewhat smaller among people with high levels of generalized trust, 20% of Black consumers versus 41% of white consumers.5 Many factors have contributed to these low general trust levels, including a long history in the U.S. of systemic racist policies and practices, including redlining, school segregation and inequity in law enforcement to name a few.
The issue of building trust with Black clients is critical for both Black and non-Black financial professionals. As the results of the Nationwide Retirement Institute Health Care survey show, there are important planning needs for Black clients across generations, but the biggest opportunities may exist with the younger generation of Black Millennials.
More than older generations, Black Millennials are feeling negative financial impacts from COVID-19. They report paying more for health care over the past year and feeling held back by excessive medical debt. Black Millennials are also more stressed financially than older generations, and that stress is creeping into other areas of their lives. Our Health Care survey found that 29% of Black Millennials said financial stress has impacted their relationships. Moreover, 17% said financial stress has affected their overall health.
One piece of good news is, Black Millennials appear open to working with financial professionals. More Black Millennials already have relationships with financial professionals (40%), compared with Black Gen Xers (27%) and Black Baby Boomers (19%).
A legacy of financial lessons
One thing younger Black adults and the financial professionals working with them can do is take cues from their parents and grandparents. Within most Black families, there are strong bonds that connect older and younger generations. The older generation has much to show and share with their children and grandchildren, including financial wisdom but not exclusively about money either. Likewise, the younger Black generation is cognizant of the struggles and sacrifices made by their parents and grandparents. They are in need of guidance and willing to listen to the lessons and legacies older generations share with them.
In our survey, we also asked current Black retirees what's one thing about their finances they wished they could redo during their working years. The most common answer they gave was to save more for retirement (59%). Secondly (but just as importantly), current Black retirees wished they would have taken on less debt.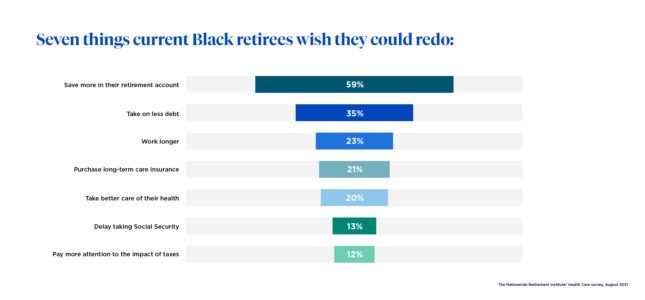 I say "just as importantly" because one goal can help the other. It's important for financial professionals to stress the connections between these financial issues, demonstrating how managing health care costs and debt can lead to opportunities for wealth building.
When I think about these connections between health care and wealth planning, I ask myself what advice I'd give to my younger self, when I was the age of today's millennials. First, I would recall the following quote, which is one I share with my teenage (but soon to be young adult) daughters: "The best math you can learn is how to calculate the future cost of your current decisions." This important reminder emphasizes the importance of being prepared for the unexpected. Many times, these surprise life events are health related and can come with hefty price tags. Prioritizing preventative care is one decision young people can make today that can help them avoid costly medical procedures down the road. Plus, preventative care is usually inexpensive.
But I know some life events you can't plan for. That's why my advice to my younger self would also emphasize disability insurance, which helps protect income when someone is unable to work due to illness and injury. Plus, a reserve emergency savings can help people avoid going into debt when the bill for an unexpected health event arrives.
By managing debt more effectively, younger Black generations can more easily boost how much they're able to save for retirement. In addition, everyone benefits when they're able to enter retirement with low or no debt. With many Black millennials struggling with medical debt, on top of other borrowing such as student loans, managing debt is one area where financial professionals can focus to help younger Black clients get on firmer financial footing.
Building bridges across the gap
Client relationships with Black clients should start with a base of financial planning and wealth building. To this, financial professionals should add the perspective of addressing the unique needs of Black clients. This is where a greater focus on empathy can help, so financial professionals overcome the long-standing barriers to trust and to build the foundation for a strong client relationship through communication.
Visit our Diverse Markets resources for more information and guidance on working with clients from a variety of demographics and backgrounds. We can help you better understand the unique needs of different clients and follow an empathetic approach for developing financial plans.
Sources and Disclaimers
1

"Disparities in Wealth by Race and Ethnicity in the 2019 Survey of Consumer Finances." Board of Governors of the Federal Reserve System. September 28, 2020.

2

MassMutual's State of the American Family: African American Families," MassMutual (2018).

3

"The Economic Impact of Closing the Racial Wealth Gap," McKinsey & Company (Aug. 13, 2019); "Recent Trends in Wealth-Holding by Race and Ethnicity: Evidence From the Survey of Consumer Finances," Federal Reserve Board (Sept. 27, 2017).

4

"Race and Trust," S.S. Smith, Annual Review of Sociology, Vol. 36 (August 2010), Pages 453–475.

This information is general in nature and is not intended to be tax, legal, accounting or other professional advice.

The information provided is based on current laws, which are subject to change at any time, and has not been endorsed by any government agency.

Neither Nationwide nor its representatives give legal or tax advice. Please have your clients consult with their attorney or tax advisor for answers to their specific tax questions.
NFN-1268AO